Clarke Kenny
Musicians or bands:
The Kenny Clarke Francy Boland Big Band, Charlie Parker, Miles Davis, Dizzy Gillespie, Bud Powell, Thelonious Monk, Modern Jazz Quartet, Ella Fitzgerald, Louis Armstrong, Coleman Hawkins, Sidney Bechet, Cannonball Adderley, Horace Silver, Paul Chambers, Milt Jackson, John Lewis, Art Blakey, Famoudou Don Moye, Kenny Burrel, Hank Jones, Sonny Rollins, Pierre Michelot, Chano Pozo
Biography and commentary: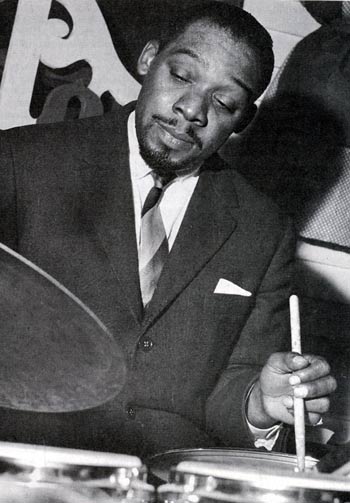 Kenny Clarke (1914-1985) is considered the inventor of the "Bebop" style on drumset in 1935, even before playing with Charlie Parker in the 1940s. This style is characterized by a liberation for the right foot of its time marking role by using large Turkish cymbals ("ride") instead, with the right hand. A total independence of the right foot allows him then to perform bass drum improvised and syncopated "bombs", to embellish and accompany the "discourse" of the soloist. Before him, jazz drummers were content themselves to improvise only with their left hand on the snare drum during accompaniment. He was also a pioneer in the adaptation of the Afro-Latin rhythms on drumset in the jazz band of Dizzy Gillespie, which include for the first time in history a real Cuban percussionist (follower of Santeria ), Chano Pozo (1947-1948, "Manteca", "Cubana Be", "Cubana Bop", "Afrocuban Suite", "Night in Tunisia"). We still owes him the invention of the "cool jazz" on drumset ("Birth of the Cool" Miles Davis, 1949) and the mixing with classical music (called "third stream") with The Modern Jazz Quartet (1952). He also took part in the experiment offered by Louis Malle to create the soudtrack of his film "Elevator to the Gallows" ("Ascenseur pour l'échafaud" in French, with Miles Davis, 1957), by improvising almost totally in front of the images of the film with again a revolutionary playing, with a very fast brushes playing and with bass and drums duo with sound effects. Kenny stayed in Paris at the end of his life, where his presence boosted surely jazz out from their originated land, more than anywhere else in the world (Paris still possesses dozens of jazz (or rock) clubs ("café concert") which have almost nightly concerts). Before that, he played with the vast majority of the jazz musicians of that time, from the most classical to the most modern, which also indicates a high degree of adaptation, culture and listening abilities. Kenny Clarke wrote a drum method ("Kennys Practice" 1988, posthumously, which presents surprisingly exercises only for one snare drum) and was the main inspiration of the first Be Bop drumset writer, Jim Chapin ("Advanced Techniques for the Modern Drummer ", 1948) and Dante Agostini .
Marc De Douvan, publication in French: January 3, 2006 (for the translation in English: July 12, 2015)
Link to Drummerworld or other
See