Carrington Terri Lyne
Musicians or bands:
Herbie Hancock, Wayne Shorter, Al Jarreau, Clark Terry, Lester Bowie, Pharoah Sanders, Pat Metheny, Randy et Michael Brecker, Mike Stern, N'Guyen Le, John Scofield, Dee Dee Bridgewater, John Patitucci, Dianne Reeves, Luis Conte, Gary Thomas, Cassandra Wilson, Stevie Wonder, Stan Getz
Biography and commentary: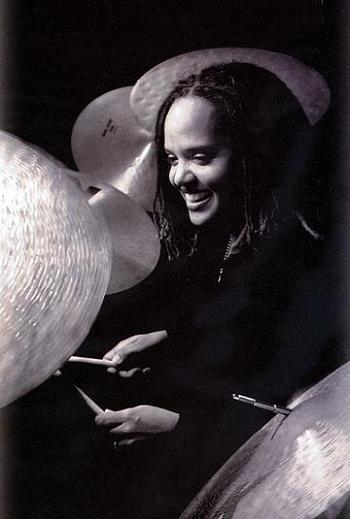 Terri Lyne Carrington began the drumset at 7 years old with private lessons and plays on stage only three years later with Clark Terry (1975). Graduated from Berklee at 18 years old only, Terri Lyne is one of the firsts female drummers to hold out on the virtuosos of the instrument, by playing with most of the great contemporary jazzmen. Her playing is not only highly technical (simultaneous improvisation of the four limbs), but also has a great musical and melodic quality, especially in improvisation. Jack DeJohnette is one of their admirers. She is also a great specialist fast bop, in the tradition of Max Roach and Jack DeJohnette , justly.
Marc De Douvan, publication in French: January 3, 2006 (for the translation in English: July 12, 2015)
Official website
See
Link to Drummerworld or other
See