Gurtu Trilok
Musicians or bands:
John Mac Laughlin, Michel Portal, Joe Zawinul, Don Cherry, Pat Metheny, Jan Garbarek, Dom Um Rumao, N'Guyen Lê, Archie Shepp, Daniel Goyone, Philip Catherine, Bill Laswell, Fredy Studer, Miroslav Vitous, Frikyiwa Family
Biography and commentary: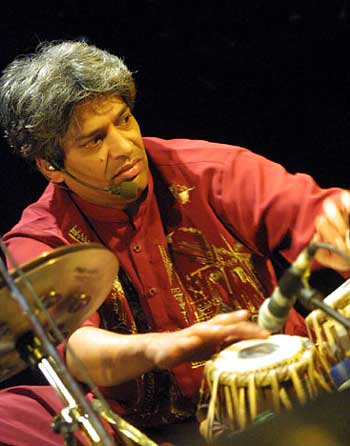 Born in 1951, Trilok Gurtu is a world renowned Indian drumset and tabla (Indian hand percussion) player. He played with many contemporary jazz musicians. He is the inventor of an hybrid playing of drumset, down on one knee, using one pedal at a time and playing the bass drum and snare drum with a stick or playing with a stick on the drumset and percussions (tablas, shaker or clay pot (Udu Drum), for example) with the other hand. His playing is also very complex rhythmically (asymmetrical measures, complex polyrhythms, improvisation), in the Indian tradition and also with an African-sounding (he has played with many African musicians). He also likes to use percussive sound effects to create "noisy" atmospheres. He participated in drum festivals (Zildjian Day). To listen absolutely.
Marc De Douvan, publication in French: January 3, 2006 (for the translation in English: July 12, 2015)
Official website
See
Link to Drummerworld or other
See