Fanfant Jean-Philippe
Musicians or bands:
Sakesho, Mario Canonge, Angelique Kidjo, Andy Narell, Beethova Obas, Kassav, Edith Lefel, Ralph Tamar, Bernard Lavilliers, Touré Kunda, Philippe Lavil, Laurent Voulzy, Maxime le Forestier, Manu Dibango, Julien Clerc, Michel Fugain, Tania Maria, Pan à Paname Steelband, Slaï, La Nouvelle Star (M6), Christophe Maé
Biography and commentary: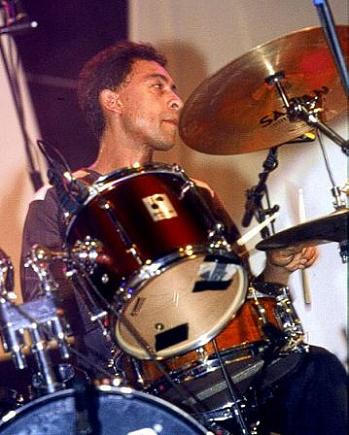 Jean-Philippe Fanfant ("Jean-Phi") is from Guadeloupe (born in 1966) and as he should be, one of the greatest specialists of the Caribbean drumset (which goes from Cuba to Brazil, via Trinidad and Jamaica and of course Guadeloupe, the common cultural denominator being the African influence, because of deportations of slaves working in the sugar cane fields). Great studio musician, he played with an impressive number of bands exploiting the cultural vein of the French West Indies (see list above which presents only a prestigious sample), in all styles (from the most "popular" pop to the finest jazz-biguine). He has just written a very comprehensive, historical and clear method (because there is enough to get lost in this "forest" of yet typed rhythms), which gather together many Caribbean basic polyrhythms for drumest already classic, which have made dance the entire world for over a century and the advent of the disc ("Afro Caribbean Grooves For Drumset", 2009). His method (distributed internationally in English and French) is recommended by such luminaries as Horacio Hernandez, Peter Erskine, Mokhtar Samba or Manu Katché, drummers themselves of international renown. After accompanying brilliantly on television, live on stage, the competitors of the "Nouvelle Star" (on M6 chanel, French equivalent of "American Idol", whose Katché was a member of the jury), he participates today in many drumset festivals, of which he is sometimes the sponsor (eg "Drums Addict Festival"). His band "Sakésho" brings together the "cream" of Caribbean jazz musicians of Paris, in a Latin jazz very "free" and furious. He did me the honor in 2008 to support publicly my drumset methods after having taken the time to read them, choosing me among few other competitors (read his review by clicking here)!
Marc De Douvan, publication in French: November 22, 2006 (for the translation in English: July 12, 2015)
Official website
See
Link to Drummerworld or other
See