Jones « Papa » Jo
Musicians or bands:
Benny Goodman, « Count » Basie, Duke Elligton, Billie Holiday, Lester Young "prez", Johnny Hodges, Art Tatum, Ella Fitzgerald, Lionel Hampton, Coleman Hawkins, Lee Konitz, Charles Mingus, Cannonball Adderley, Chuck Berry, John Coltrane
Biography and commentary: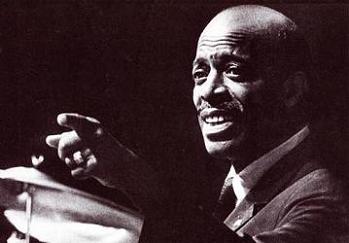 "Papa" Jo Jones is one of the classic jazz drummers (but also a saxophonist, pianist and "tap" dancer) of the most sought (born in 1911, died 1985), with a playing full of rim shots, complex phrases even with the left foot , great gestural and postural control (it's rare enough to be noted). He will be one of the most acclaimed Count Basie drummers (hired in 1933) and the major influence of Be bop drummers with a slightly freer playing than traditional drummers like Gene Krupa (by not marking all the beats on the bass drum for example, in unisson with the double bass), whom he replaced in the orchestra of Benny Goodman moreover, when Gene founded his own orchestra in 1939. His swung version of the "bossa nova" of the 1960's is remarkable and also the use of the Brazilian repinique technique retaken on the snare, which is to play with one stick, a bare hand and with 2 rebounds rolls (three stroke rolls). It is also a master of brushes and single stroke rolls with passages, with a speed and control comparable to Buddy Rich. Max Roach, one of the fathers of the Bebop ("modern" jazz), cites him as one of his biggest influences.
Marc De Douvan, publication in French: January 3, 2006 (for the translation in English: July 12, 2015)
Link to Drummerworld or other
See