Smith Chad
Musicians or bands:
Red Hot Chili Peppers, Chickenfoot, Flea, Johnny Cash, John Frusciante, Glenn Hughes, Joe Satriani, Ian Paice
Biography and commentary: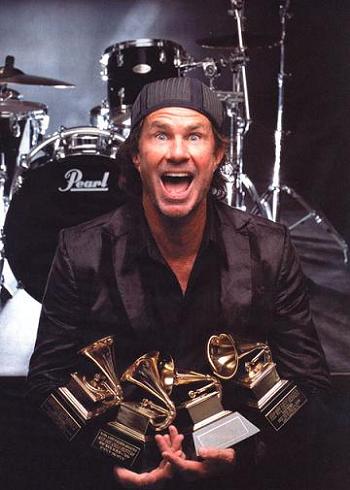 Born in 1961, self-taught, Chad Smith is known as the house drummer (since 1989, album "Mother's Milk") of one of the rock bands (progressive, alternative, hardcore, funk, punk, rap?) the most popular of the 1990's, 2000, the Red Hots Chili Peppers (already 6 Grammy Awards, 70 million albums sold!). Chad has a very energetic playing (that's an understatement), which does not prevent him some finesse (lots of breaks and variations (improvised), ghost notes, hi-hat openings, accents and rolls (ornamentations), breaks beats, etc.). His playing is very reminiscent of that of John Bonham (influence that he claims), Carmine Appice or Ian Paice (with whom he played elsewhere in duo in the Modern Drummer Festival of 2005), creative pioneers of the hard rock (for energy and sense of effective virtuosity) but also Clyde Stubblefield, James Brown drummer (for breaks beats), Mitch Mitchell (Hendrix, for the sense of improvised counterpoint) and Jeff Porcaro (Toto for the groove and the hit). A talent and good communicative mood with just enough madness and spicy, well presented in his educational DVD. With Brad Wilk (RATM) and Dave Grohl (Nirvana), he surely represents one of the best representatives of the newest "new wave" of rock (on the boundary between heavy metal and funk). He just participated in a new concert tribute to Buddy Rich, alongside nothing less than Peter Erskine, Terry Bozzio, John Blackwell and Neil Peart (2008).
Marc De Douvan, publication in French: March 3, 2009 (for the translation in English: July 12, 2015)
Official website
See
Link to Drummerworld or other
See