Gonzalez Jerry
Musicians or bands:
Fort Apache Band, Ray Barretto, Eddie Palmieri, Dizzy Gillespie, Quincy Jones, Hilton Ruiz, Celia Cruz, Graciela, Chico O'Farrill, Arturo Sandoval, Paquito D'Rivera, Tito Puente, Max Roach, Kip Hanrahan.
Biography and commentary: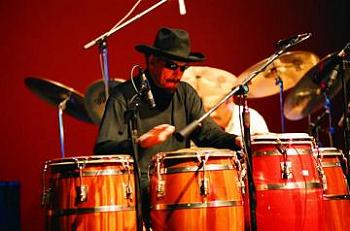 Born in 1949 in the Bronx, New York, trumpeter, composer, arranger and congas player, Jerry Gonzalez began his career in 1968 after studying at the New York College of Music, beside the pioneers of Latin jazz Ray Barretto and Dizzy Gillespie. After playing with the greatest musicians of Latin jazz, he founded his own band ("Ya yo me cure" 1980), which combines brilliantly the most authentic Cuban roots (percussions of the Santeria, in the footsteps of Chano Pozo) and the most sophisticated and already classic jazz (themes from Dizzy Gillespie, Miles Davis, Thelonious Monk, Duke Ellington, etc.). He participates in the first album of one of the most pioneering producer, Kip Hanrahan ("Coup de tête" 1979/1981) which brings together such different worlds as Sting, Carla Bley, Steve Swallow, Don Pullen, Robby Ameen and Horacio " El Negro" Hernandez, promoting total improvisation and original group on each piece. His playing with five congas is masterful, very melodic and contrapuntal (surely the influence of the trumpet). His brother Andy is a famous Latin jazz bassist and plays also with him. He participated in Fernando Trueba film on living luminaries of Latin jazz ("Calle 54", 2000) alongside Michel Camilo, Horacio "El Negro" Hernandez, Tito Puente (his last appearance in a movie), Giovanni Hidalgo, Dave Valentin, Bebo and Chucho Valdes, Paquito D'Rivera, Chano Dominguez, Eliane Elias, Gato Barbieri, Chico O'Farrill ... (a must for any lover of Latin jazz).
Marc De Douvan, publication in French: January 3, 2006 (for the translation in English: July 12, 2015)
Official website
See