Sanchez Poncho
Musicians or bands:
Cal Tjader, Ramon Banda, Tony Banda, Carl Jefferson, Sal Cracchiolo, Phil Edwards, David Torres, José Papo Rodríguez, Arturo Velasco, Mark Levine, John Burk, Rob Fisher, Charlie Otwell, David Romero, Scott Martin, Vince Lateano, Gene Burkert, Allen Sides, Keith Seppanen, Santana, Gary Foster, Stanley Clarke, David Benoit, Duke Ellington, Woody Herman, HMA Salsa, Art Pepper, Tower of Power, Jerome Kern, Dan St. Marseille, Ron Eschete
Biography and commentary: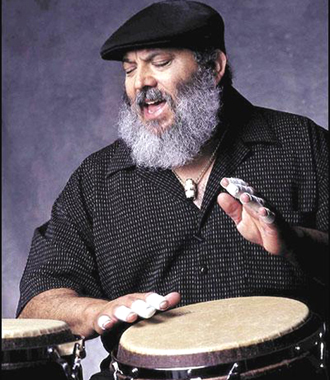 Born in 1951, Poncho Sanchez is a historical master of congas and Latin jazz, from Texan origine, who played with an impressive list of luminaries and his own bands. Poncho has marked the jazz by his Latin fusion hyper eclectic, in the footsteps of Mongo Santamaria, which he recognizes as his main inspiration. Poncho has won a Grammy in 1999 for his album "Latin soul".
Marc De Douvan, publication in French: October 10, 2008 (for the translation in English: July 12, 2015)
Official website
See
Link to Drummerworld or other
See