Jones "Philly" Joe
Musicians or bands:
Miles Davis, John Coltrane, Sonny Rollins, Bill Evans, Thelonious Monk, Red Garland, Paul Chambers, Lee Morgan, Curtis Fuller, Kenny Drew, Cannonball Addreley, Johnny Griffin, Nat Addreley, Julian Priester, Tommy Flanagan, Jimmy Garrison, Wynton Kelly, Wilbur Ware, Bill Barron, Hank Mobley, Milt Jackson, Wes Montgomery, Clark Terry, Jimmy Cleveland, Peter King, Kenny Wheeler, Les Condon, Mike Pyne, Ron Metthewson, Dameronia, Joe Morris, Bull Mose Jackson, Tad Dameron, Archie Shepp, Sun Ra
Biography and commentary: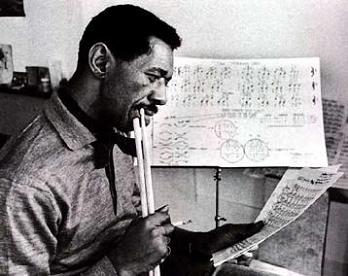 Born in 1923, "Philly" (he is from Philadelphia) Joe Jones is one of the most talented second-generation jazz drummers (1950 Be Bop) with Art Blakey, Max Roach, Kenny Clarke, Buddy Rich and Roy Haynes. He is known for his accompaniments of Miles Davis (from 1952 to 1961) and his solos of anthology, as inventive as virtuosos who have marked the history of jazz solo, with the use of shuffle and bass drum offset in rhythmically complex rudiments. His ability to play very versatile improvised counterpoints on the snare, is one of his trademarks, often copied, rarely equaled. To say that his playing has collected a following is an understatement. He is for me the most accomplished archetype of the Bebop drummer in total symbiosis with his band. With Tony Williams, who will be his successor in Miles Davis band, and Elvin Jones, who will accompany John Coltrane after leaving Miles Davis band, it's a new page of jazz that turns over, toward a new world and what historians commonly call the 3rd generation (or jazz revolution): free jazz and fusion, that Philly will follow with John Coltrane, and much later with Archie Shepp and Sun Ra. "Philly" left us in 1985.
Marc De Douvan, publication in French: October 10, 2008 (for the translation in English: July 12, 2015)
Link to Drummerworld or other
See