Roddy Derek
Musicians or bands:
Hate Eternal, Today Is The Day, Malevolent Creation, Nile, Divine Empire, Aurora Borealis, Council Of The Fallen
Biography and commentary: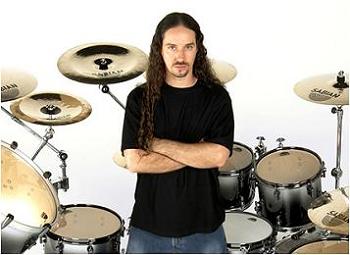 Derek Roddy is one of the most remarkable talents of the new generation (born in 1972 in South Carolina, USA), thanks certainly to his exemplary technique and virtuosity and in the specialties of the style that he practices (heavy metal, also called "Extreme Metal" for the taste of the speed of the single stroke rolls with double bass drum and backbeats (" blast beats") as found originally in the Thrash Metal of Metallica (Lars Ulrich), the death metal of Slayer (Dave Lombardo "Thunder Kick") or Dark Angel (Gene Hoglan "The Atomic Clock") or also Morbid Angel (Pete Sandoval), in punk music but also originally in Polka and Gypsy and Yiddish music (Klezmer) and from Eastern Europe in general (example: George Zamfir "Lark") that today's young people tend to ignore), but also all other (Latin, as the playing in independence with the clave with the left foot, blues, jazz, etc.). This almost unique ability that he shares with the best drummers of today in all styles (such as Akira Jimbo (solo and jazz-rock), Horacio Hernandez (latin jazz) and Thomas Lang (pop)), allows him to integrate surprising and creative details in his favorite style. The blast beat technique with leaning on the snare drum rim ("one handed roll" or "Gravity Blast") is primarily an invention of Ian Paice (Deep Purple). To discover urgently for all metal fans, and even the others. He has just released an instructional DVD entirely devoted to blast beats with phrases (coordinations) of his own creation ("Blast Beats Evolved", Hudson Music, 2009) and has released a written method on the same subject ("The evolution of Blast Beats ", 2008). He also appears in the DVD of the Modern Drummer Festival of 2008.
Marc De Douvan, publication in French: October 10, 2008 (for the translation in English: July 12, 2015)
Official website
See
Link to Drummerworld or other
See