Portnoy Mike
Musicians or bands:
Liquid Tension Experiment, Dream Theater, Rush Tribute, John Arch, John Petrucci, John Myung, James LaBrie, Kevin Moore, Derick Sherinian, David Prater, Jordan Rudess, Maggie Estep, Kevin Shirley, Doug Oberkircher, Jay Beckenstein
Biography and commentary: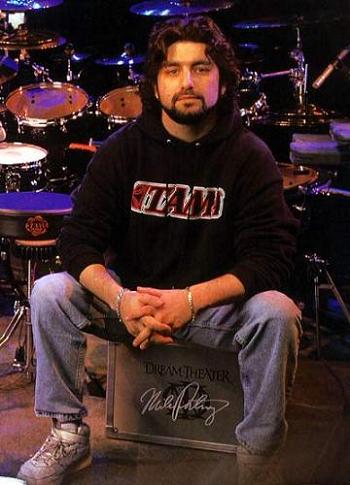 Born in 1967 in Long Beach, Mike Portnoy is the son of a disc jockey. Fan of Neil Peart (Rush) and Nicko Mac Brain (Iron Maiden), mainly self-taught (like many creative musicians), Mike will still pass through the famous Berklee College of Music in Boston, where he met the musicians with whom he will form his famous progressive rock band with metal and fusion soundings, "Dream Theater" (1985). Mike is one of the leading inventors of the playing with four limbs rolls (2 hands / 2 feet, with double bass drum) with Terry Bozzio, Simon Phillips, Gregg Bissonette and Dennis Chambers at the same time (taken over by the current best metal drummers like Joey Jordison or Mike Terrana) as the use of polyrhythms with asymmetric measures. He has a breathtaking ability to completely change the musical style within the same song, to offer us of the most baroque music (in the spirit), extremely constructed and always highlighting his playing (which makes him a great promoter of the instrument, which is too often relegated to rhythmic support). Mike offers instructional videos and has a set of the most impressive, which he dominates like a kind of wild beast tamer. He called his current drumset the "Siamese monster" because there are two places where to sit with a more metal set up, and one, more fusion, which intersect within the kit (unique concept, good luck the "roadie"!).
Marc De Douvan, publication in French: January 3, 2006 (for the translation in English: July 12, 2015)
Official website
See
Link to Drummerworld or other
See