de Grasso Jimmy
Musicians or bands:
Megadeth, David Lee Roth, Ronnie Montrose, Suicidal Tendencies, MD-45, Alice Cooper, Ozzy Osbourne, Lita Ford, Y & T, Corey Taylor
Biography and commentary: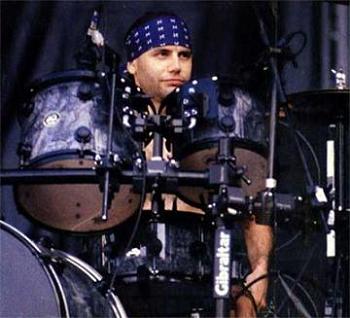 Jimmy de Grasso is one of the most talented drummers with two bass drums in the world and of the moment. His speed is matched only by the rhythmic complexity of the single stroke roll with the feet which he combines with hands ornaments which he also knows all the classical technical subtleties (with double strokes (one of the first to practice it at this stage of complexity in linear coordination with the 4 limbs (paradiddles with insertion of double bass drum, etc.), flams and accents). Some great art, one-of-a-kind at this level of control (with Joey Jordison, Aquiles Priester, Mike Terrana, Mike Portnoy, Thomas Lang, Marco Minnemann, Alessia Mattalia, Virgil Donati and Terry Bozzio, which each uses the playability with two bass drums in their way, different). Jimmy gives master classes and videos of him are available.
Marc De Douvan, publication in French: November 22, 2006 (for the translation in English: July 12, 2015)
Official website
See
Link to Drummerworld or other
See