Kolinka Richard
Musicians or bands:
Téléphone, Jean-Louis Aubert, Louis Bertignac, Alice Cooper, Le Cercle, Alain Bashung, Daniel Darc, Cali, Raphaël, Abd al Malik, Grand Corps Malade, Oli le Baron, L'Affaire Louis Trio
Biography and commentary: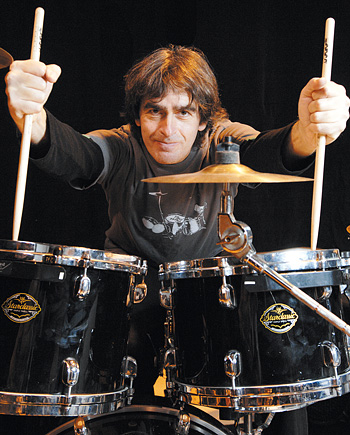 Richard Kolinka (born in 1953 in Paris) is one of the first French virtuoso rock drummers, with the legendary rock band "Téléphone" 1970, 80's (which is reminiscent of the progressive rock of Genesis, for example), with a very scenic playing (visual, choreographic) and expressiveness (notably through a perfect control of dynamics, gestures, rudiments and improvised complex and inspired fills) and the search for fun by playing (not obvious for all musicians and educators, but when you're bored while playing, it is heard, it's good to remind it). He said himself very inspired by The Who drummer Keith Moon and is mostly self-taught (although military training is not his thing, that does not prevent him to master perfectly the rudiments, and do exercises on a pad, like any good drummer). We should notice a high faithfulness with his lifelong "friend" Jean-Louis Aubert. A monument of the French rock drumming (I know he would not like the expression as the words "freedom" and "alive", were important in his life choices), one of those who have best embodied the rock spirit on drums, and you can hear and see it.
Marc De Douvan, publication in French: October 10, 2008 (for the translation in English: July 12, 2015)
Official website
See