Hakim Omar
Musicians or bands:
Miles Davis, Weather Report, Brecker Brothers, Michel Petrucciani, Aziza Mustapha Zadeh, Madonna, Bruce Springsteen, Dave Grusin, Mariah Carey, Sting, Marcus Miller, John Scofield, David Bowie, Al di Meola, Mike Mainieri, Dire Straits, Chic
Biography and commentary: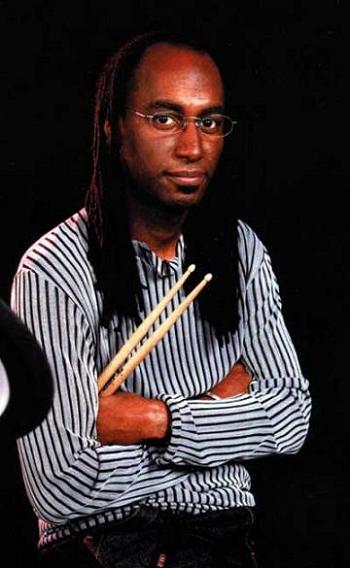 Son of the jazz trombonist Hasan Hakim, Omar Hakim has played with many contemporary artists, as well in pop as in jazz. Revealed at 21 years old with the jazz vibraphonist Mike Mainieri (1980), he became shortly after one of the last drummers of Miles Davis and Weather Report, played with Dire Straits, Sting, David Bowie, Madonna, Michel Petrucciani, Mariah Carey, Marcus Miller, so to say the best and most famous musicians of his time and today. He was honoured to play in a tribute concert to Buddy Rich, reserved for the best modern drumset drummers since 1989. He mastered the most advanced techniques (jazz-funk, three limbs rolls, four limbs independence, double stroke rolls on cymbals (rock ornamentation, by the rudiments), ghost notes, etc., in the vein of Steve Gadd, Gerry Brown, Harvey Mason and Peter Erskine, contemporary and close to Dennis Chambers and Dave Weckl) and possess a polyryhtmic and improvised playing of the most "swinging", inspired (counterpoint), inventive and cultivated (notably in Brazilian and Caribbean percussions (Calypso, reggae)). Omar Hakim wrote educational scores and played in instructional videos.
Marc De Douvan, publication in French: January 3, 2006 (for the translation in English: July 12, 2015)
Official website
See
Link to Drummerworld or other
See