CLASSIFYING OF THE DRUMMERS BY STYLE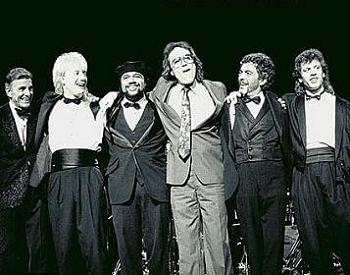 Bellson, Bissonette, Chambers, Colaiuta, Gadd and Weckl, at the "Buddy Rich Memorial Scholarship Concert" in Los Angeles, 1989.
Click on the name of a drummer to see a biography written by myself with critical commentary (attempting to highlight the creative contribution of the drummer in the history of music), video or audio clips (in solo or in a band or even a lesson from him, a presentation of an instrument conceived especially for him or one or several interviews of him), a selective discography, and sometimes even a videography and bibliography, and also external links (to his official website and / or to drummerworld.com, which offers other video and audio clips) and a list of famous musicians or bands, with whom he played.
N.B.: Some drummers appear in several categories.
Contents (click on a category):
1: Classic Jazz, Swing (Big Bands, New-York, Chicago jazz, "Hot Jazz", Boogie-Woogie, New-Orleans, Dixieland):
2: Modern jazz ("Be bop", "Hard Bop" and "Cool Jazz"):
3: Latin Jazz, "Cubop", Salsa, Cha-cha, Mambo, "Son Cubano" ("classical" musics from Afro-Cuban inspiration):
4: Rock'n'Roll, Blues, Rhythm'n'Blues, Pop Music, Disco, Variety:
5: Free jazz, free groove (free-funk), "world" (beyond the American continent) jazz, electro-jazz, "atmospheric" jazz, contemporary jazz:
6: Brazilian drumset drumming (Bossa Nova, Jazz-Samba, etc.)
7: Funk, new ("contemporary") R'N'B (Rhythm and Blues), Jazz-Rock and Jazz-Funk:
8: Hard Rock and Heavy Metal (origins ("traditional"), Thrash Metal, Melodic Metal, FM, etc.):
9: Progressive Rock:
10: Jazz Fusion, Free Latin, Caribbean music (Latin-jazz-rock, Zouk, Reggae, etc.):
11: African drumset drumming (Afro-beat, afro-jazz, Rai, etc.):
12: Progressive Metal, Extreme Metal (Metal-fusion, speed, death, black, instrumental, etc.):
13: "Traditional" percussionists (hand drums or without pedals):
14: Educators, Writers, "Clinicians", drum soloists (unclassifiable):