Collins Phil
Musicians or bands:
Genesis, The Phil Collins Big Band, Peter Gabriel, Ray Cooper, Brian Eno, Sting, Helen Terry, Robert Plant, Eric Clapton, Paul McCartney, Brand X, Ozzy Osborne, Phil Bailey, B.B. King, Albert King, Paul Butterfield, The Manhattan Transfer, Oletta Adams, N Sync, Rosie O' Donnell, Stevie Ray Vaughan, Frida, Robert Fripp, John Cale, Adam Ant, Bunny Berigan, Philip Bailey, Peter Banks, Stephen Bishops, Gary Brooker, Café Jacques, Camel, Al DiMeola, Empire, Frida, Dave Greenslade, Steve Hackett, Daryl Hall, Rupert Hine, Eddie Howell, Howard Jones, Jack Lancaster, Eliott Murphy, Ralph McTell, Mike Oldfield, Tears for Fears, Tina Turner
Biography and commentary: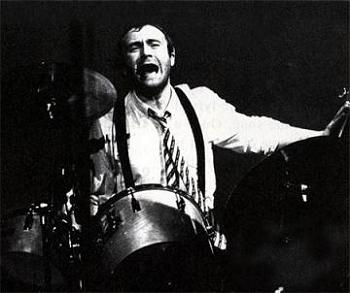 Born in 1951 in London, Phil Collins is one of the first drummers of progressive rock, with very inventive and versatile playing. He is best known today for his vocal performances (high level as well). He was both drummer and backing vocalist in the legendary band Genesis (1971) before replacing Peter Gabriel as lead singer when he left the band (1975). His more unknown participation in the fusion group Brand X (1976) shows all the phenomenal extent of his innovative drummer talent in "funky" style (asymmetrical measures, syncopation, linear drumming (like double stroke rolls with the right foot in line with John Bonham), ghost notes, hi-hat openings, improvisation, remarkable sense of nuances (dynamics), swing and groove, etc.) that is reminiscent of Dennis Chambers later (it shows something!). One of the few pop drummers to have had the honor to play a tribute concert to Buddy Rich, where he is accompanied by the great Cuban percussionist Luis Conte, who played a lot with him (you can find this concert on DVD ). He also formed a big band which makes notably covers of his own songs as theme (to discover). Trouble with his spine had forced him to stop playing drumset recently (we hope this is not definitive as he seems to announce himself). Phil has won no less than 8 Grammy Awards.
Marc De Douvan, publication in French: January 3, 2006 (for the translation in English: July 12, 2015)
Official website
See
Link to Drummerworld or other
See