Samba Mokhtar
Musicians or bands:
Nicole Croisille, Dalida, ONJ, Eddy Louiss, Ultramarine, Michel Jonasz, Jean-Luc Ponty, Joe Zawinul, Jaco Pastorius, Carlos Santana, Carlinhos Brown, Salif Keita, Youssou N\'Dour, I Muvrini, Alpha Blondy, Manu Dibango, Richard Bona, Zaka Percussions, N'Guyên lê, Cheb Bilal
Biography and commentary: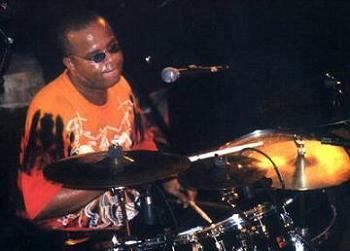 Born from a Moroccan mother and a Senegalese father and emigrated to France at the age of 12, Mokhtar Samba symbolizes on his own the mixing of his music. He is not only a pioneer in the field but also a remarkable technician who adapts to all styles (it is evidenced by the remarkable musicians with whom he has played and which are nevertheless of very different styles). He co-founded one of the first French fusion bands Ultramarine (first album "Dé", in 1989, with very Caribbean and jazz-rock sounding) with Etienne M'Bappé, Mario Canonge and Nguyen Lê which follow all today a prestigious career as leader. He also accompanied the legend of French jazz-rock, Jean-Luc Ponty, before starting an impressive studio and stage drummer career with the cream of French musicians in all styles and internationally renowned African musicians such as Salif Keita, Youssou N'Dour, Manu Dibango and Alpha Blondy. He will also have the honor to play with legends like Carlos Santana or Joe Zawinul (former leader and co-founder of Weather Report). Mokhtar has written a pioneering method for transposing North African (Gnawa) and Senegalese (Sabar) rhythms for modern drumset (in English, which is almost unique for a French) and gives master classes. Another drummer demonstrating that the combination of tradition, exoticism and modernity, brings to the forefront of the avant-garde. His son Reda, who's just 20 years old and participates in a duet with him at master classes, already plays prodigious solos: a young talent to be discovered.
Marc De Douvan, publication in French: November 22, 2006 (for the translation in English: July 12, 2015)
Official website
See