Hoglan Gene
Musicians or bands:
Strapping Young Lad, Fear Factory, Devin Townsend, Jed Simon, Byron Stroud, Tenet, Dark Angel, Death, Testament, Opeth, Old Mans Child, Punchdrunk, Silent Scream, Naphobia, Cranium, Daemon, Jed Simon
Biography and commentary: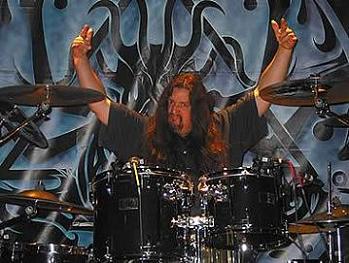 Born in 1967, Gene Hoglan (nicknamed "The Atomic Clock") began his career as a "roadie" for Slayer (we feel well the influence of the master Dave Lombardo but according to his own words it is rather Gene who have learned double bass drum tricks to Dave), of which he made the "sound balance" behind the drumset (he is self-taught). A little later (1984), it is in front of the audience that he demonstrates in his first band, Dark Angel, that he is and will remain as one of the greatest Metal drummers. Without even considering his legendary speed and endurance with double bass drum (with continuous flow or ornamentations and many tempo changes), he will distinguished himself above all, as Dirk Verbeuren said , as the first drummer to use complex rudiments alternating hands and feet (like the single paradiddle, for example), leading the modern drumset to heights of accomplishment, because the four limbs are in fact here at stake in a linear coordination inspired from the most virtuosic traditional European drumming fingerings. He is also a specialist of "blast beats" which he sometimes uses with alternating strokes ("Moeller Technique"), and often plays syncopated single stroke rolls with the feet (with rests, sometimes irregular or doubled) and polyrhythmic playings in independence (or interdependence) with the hands (as the single paradiddle with "ghost notes" or "breaks beats", typically funky on double bass drum single stroke roll, in the manner of Thomas Lang), which makes his playing more musical, original and complex, than many more conventional metal drummers. His ambidexterity allows him to play uncrossed or not on hi-hat (like Billy Cobham, who is also a pioneer of the double bass drum in notably in accompaniments). He played with many different bands in the Trash, progressive, Death, American and Scandinavian Metal scene. He also does a production and sound engineer work. To say that he has inspired a host of other metal drummers, is an understatement, although it is surely often indirectly (as often in art, sources are deep and in the dark). He has just released an instructional DVD: "The Atomic Clock" (2010), which I highly recommend to drummers who want to get into the metal known as "extreme" and also the other.
Marc De Douvan, publication in French: October 10, 2008 (for the translation in English: July 12, 2015)
Official website
See
Link to Drummerworld or other
See