Priester Aquiles
Musicians or bands:
Hangar, Angra, Freakeys, Di'Anno
Biography and commentary: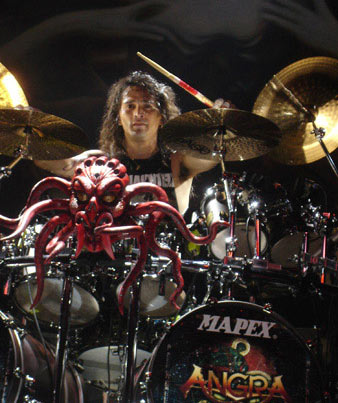 Aquiles Priester is one of the young metal drummers of the most promising (of Brazilian origin, born in 1971). His vocation comes from the Iron Maiden concert "Rock in Rio" (1985) and he claims Nicko Mac Brain as one of his major inspirations. His playing on the double bass drum is of the most impressive because of its speed, its power, its volubility and its original complexity (with changes of subdivisions and measures, jumped single stroke roll, shifted beatings in 3 over 4 in Independence, ornamentations, etc.) which is not without reminding the way of playing of the master of the genre, Mike Portnoy (Aquiles goes probably just a little further in the same vein, Mike Portnoy (Dream Theater) being himself inspired by Neil Peart of Rush). He becomes after an audition, the drummer of the Brazilian band Angra (famous band of "gothic metal" or "melodic metal" or "power metal" or "progressive speed metal" with symphonic sounding, according to specialists apreciations, which says a lot about the range of his playing and virtuosity, to which I would add we hear a hint of samba (hear the "PsychOctopus" solo), making it also his originality and proves again the creative benefit of a culture far from stylistic "clichés") from 2000 to 2007, before leaving the band for Hangar. Aquiles gives already master classes around the world and has a drum set to the measure of his "baroque"sounding playing. A monstrous drummer who has an instructional video recently ("Inside My Drums", 2004)!
Marc De Douvan, publication in French: January 3, 2006 (for the translation in English: July 12, 2015)
Official website
See
Link to Drummerworld or other
See