Wassy Brice
Musicians or bands:
Manu Dibango, Salif Keita, Talking Heads, Jean-Luc Ponty, Graham Haynes
Biography and commentary: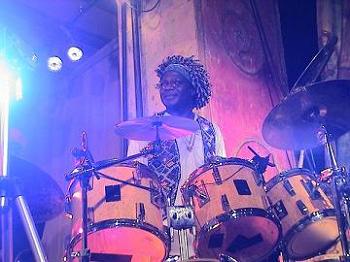 Brice Wassy is a French drummer and percussionist from Cameroon origin, remarkable for his mastery of asymmetric measures, which appears to be following the traditional music. He is also one of the first drummers in history to transpose African polyrhythms on modern drumset with a funky and jazzy character (like Tony Allen (Nigeria), who surely inspired him or Mokhtar Samba (Morocco, Senegal) or also Paco Sery (Ivory Coast)). Brice has published a method on his unique approach of drumset with the Cameroonian cultural references. The vanguard of today if there is, in the matter of modern drumset (with pedals).
Marc De Douvan, publication in French: November 22, 2006 (for the translation in English: July 12, 2015)
Official website
See
Link to Drummerworld or other
See