Quintana Jose Luis "Changuito"
Musicians or bands:
Los Van Van, Roy Hargrove Crisol, Tomas Gonzalez, Pandilla de los Cabezas de Perros, Cuba Mambo, Carlos "Patato" Valdes, Orestes Vilato, Bebo Valdes
Biography and commentary: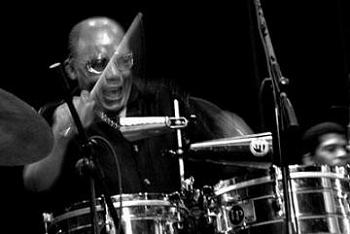 Born in 1948 in Cuba, drummer, Latin timbales and Cuban congas player, professional at the early age of eight, Jose Luis Quintana (nicknamed "Changuito") is known for his adaptations of Cuban music for the drumset (by adding a bass drum with pedal to the traditional set of timbalero, played standing) and as the inventor of "Songo" on the drumset, in the Los Van Van band (1970), which is a funky variant of the "Mozambique" of Pello el Afrocan also called "son Montuno". His solo playing demonstrates an incredible independence, notably by keeping the complex rhythm of the rumba clave with the left hand or the cascara with the right hand and the use of European military rudiments. He was a major influence for all the following generations of virtuoso Latin jazz drummers, congueros and timbaleros, like Giovanni Hidalgo, "Anga" Diaz, Carl Perazzo, Luis Conte, Dave Weckl, Horacio "El Negro" Hernandez, Robby Ameen or even Akira Jimbo. He received three Grammy Awards. Changuito has created instructional videos and written methods.
Marc De Douvan, publication in French: October 10, 2008 (for the translation in English: July 12, 2015)
Official website
See