Oxley Tony
Musicians or bands:
John Mac Laughlin, John Surman, Paul Bley, Bill Evans, Vangelis, Tomasz Stanko, Anthony Braxton, Cecil Taylor, London Jazz Composers' Orchestra, Bill Dixon, Joseph Holbrooke, Joe Henderson, Lee Konitz, Stan Getz, Sonny Rollins
Biography and commentary: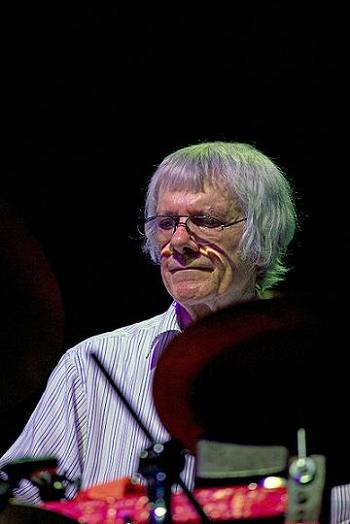 Tony Oxley (born in 1938 in Sheffield, in northern England) marks a turning point in how to play jazz drumset with an enormous presence of the left foot and with a mastery that is probably beyond that of a Johnette yet beginner in the 1960s, although certainly inspired by the playing of the great Elvin Jones. The interdependence of Minnemann or the playing of Bill Stewart owes surely him a lot too (right foot-left hand rolls in independence or with the addition of the the right foot or left hand). He learned piano by himself from 8 years old and starts at 17 to play drumset. From 1957 to 1960, he joined the military music of the "Black Watch", Infantry Battalion of the Royal Regiment of Scotland (band consists of pipes and drums) and took the opportunity to study music theory in addition to acquire a strong technique of military rudiments.Then he moved to London where he accompanies the most prestigious American jazzmen passing (see the list above). "Extrapolation", from 1969, with John McLaughlin as a leader, makes the demonstration of his so special and rare talent of improviser with the four limbs, with moreover an exemplary guitar-drumset dialog , and a brilliant John Surman on saxophone. He increased subsequently his drumset with a multitude of percussion instruments to allow a deconstructed playing, "free", materialist and even noisy and out of tempo (which can hurt lots of ears which prejudge what music "should" be, particularly with a narrow vision of musical beauty, which could only be metronomic, tempered and measured and therefore geometrically simple). He played with one of the greatest free jazzmen influenced by the written contemporary music (Cecil Taylor, Anthony Braxton, Tomasz Stanko, ...). Surely the greatest English drummer, perhaps even European, of jazz history.
Marc De Douvan, publication in French: November 22, 2006 (for the translation in English: July 12, 2015)
Link to Drummerworld or other
See