Michelino Silvano
Musicians or bands:
Tupi Nagô, Mario Canonge, Celia Reggiani, Marcello Pretto, Pedrão do Maranhão, Santo Amaro, Henri Salvador, Ukulele Club de Paris, Bïa, Cesaria Evora, Trio Esperança, Paulo Moura, Nelson Ayres, Moraes Moreira, Chet Baker, Monica Passos, Michel Fugain, Etienne M'Bappe, Pierre Barouh, Marijosé Alie
Biography and commentary: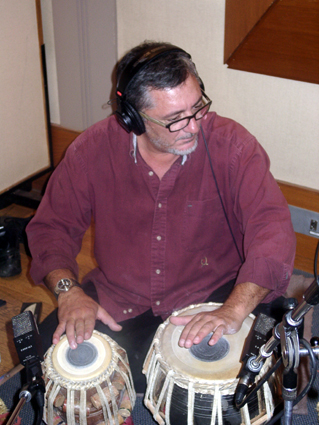 Silvano Michelino is a percussionist, singer, guitarist and composer of the Franco-Brazilian "variety" band (based in Paris) Tupi Nago (from the name of an Amazonian tribe, Tupi and African, Nagô), which uses the samba-reggae, samba or afoxe as accompaniment, with real batucadas instead of jazz drumset. This system is quite common in the Brazilian pop and gives here one of the mix the most virtuosic, innovative, eclectic and authentic of the moment. Marcos China, co-founding member of the band that brought together some of the best "samba musicians" in the Paris region like Jean-Christophe Jacquin (author of an educational DVD on Brazilian percussion), was a time the head of the Tupi Nagô bateria, and I have personally followed one of his samba-reggae advanced courses in Paris, when this style was still virtually unknown in France (in 1995). Samba Reggae is a polyrhythmic style from the Nordeste ("Northeast" region of Brazil), naturally influenced by the proximity of the Caribbean and its music (Dominican merengue, Cuban clave, Jamaican reggae syncopation, Guadeloupe biguine, etc.), which the carnival band "Olodum" of Salvador de Bahia (founded in 1979) is one of the initiators. Today, many French batucadas exclusively play the samba-reggae, which the characteristic is to be played with two sticks for Repiniques and two mallets for surdos (large Brazilian carnival drums), retaking rhythms played with both hands with fingers on congas, in continuous single stroke roll (a typical djembe technique, filling the silence with pianissimo notes, called "ghosts" notes for the drumset). Silvano plays Brazilian as well as Cuban instruments (bongos, congas) and Indians (Udu or "clay pot", tablas), or also the drumset with always Brazilian rhythms (which is quite original). The first disc of the young Franco Brazilian singer Bïa whose he is the percussionist and arranger, has received the Grand Prix du Disque de l'Académie Charles Cros (in 1997). He also accompanied Henri Salvador in one of his last concerts (dvd "Bonsoir l'ami", 2004).
Marc De Douvan, publication in French: January 3, 2006 (for the translation in English: July 12, 2015)
Official website
See
Link to Drummerworld or other
See