Webb Chick
Musicians or bands:
and orchestra, Ella Fitzgerald, Louis Armstrong, Johny Hodges, Mario Bauza
Biography and commentary: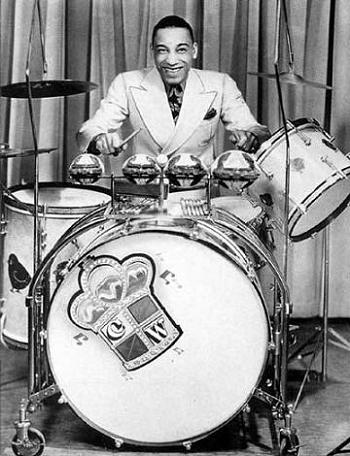 Chick Webb is one of the first jazz virtuoso drummers (born in Baltimore, Maryland, 1909, died in 1939) and big band leader that surely inspired Buddy Rich, among others. It is in his orchestra that Ella Fitzgerald made her debut on stage. He began to play the drumset on dancing paddle boats and moved to New York in 1925. His band played in one of the most famous jazz concert and dance halls, the Savoy Ballroom in New York and had as members the illustrious Johnny Hodges and Louis Armstrong. At the time, the best big bands were doing "duels" in public, "battles of the bands", playing on the same stage at the Savoy in Harlem, and facing Benny Goodman (with Gene Krupa on drumset) and "Count" Basie (with" Papa" Jo Jones), bringing together probably the three best modern drummers of the 1930s, it is for the orchestra of Chick that the public voted, which earned him the nickname "King of Swing". Chick has never been able to read sheet music and was reminded arrangements by heart, ear, like Buddy Rich later, who is one of his admirers. Chick Webb played surrounded by an impressive set of percussion instruments from all sources, which the "invasion" was enhanced by his small height. Frail due to tuberculosis contracted in childhood, he died prematurely, which prevented him from fully enjoying the recent progress of the disc (first wax disc: 1902, fragile and not very accurate, first commercial film with synchronized sound: 1923, first electrical recording: 1925, first vinyl record (thermoformed plastic) with microgroove, by CBS (Columbia Broadcasting System), which is still the best quality today because analog, although the quality deteriorates from the first pass of the "Sapphire", only in 1946, after his death, commercialization: 1948). Ella then became the leader of his band until its dissolution in 1942.
Marc De Douvan, publication in French: January 3, 2006 (for the translation in English: July 12, 2015)
Link to Drummerworld or other
See