Vander Christian
Musicians or bands:
Magma, Offering, Didier Lockwood, Emmanuel Grimonprez
Biography and commentary: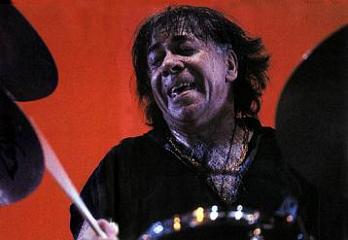 Christian Vander (born in 1948 in Nogent-sur-Marne, France), who says himself very influenced by Elvin Jones, John Coltrane's drummer , he had the chance to meet in his youth (he is the adopted son of the jazz pianist Maurice Vander), marked a turning point in the way of thinking music and drums in particular. For me, Magma (founded in 1969), band of which he is the leader, composer, arranger, lyricist and creator, is distinguished by three unique and fundamental characteristics: 1: the use of Kobaïen, this language invented by Christian without meaning, that creates this "Dadaist" tension between songs and music. 2: the highlighting of the drumset which is often almost alone to improvise (which in this case reminds me rather of Tony Williams (who has also himself been influenced by Elvin Jones), especially in the piece "Nefertiti" from Miles Davis, on the self-titled album from 1967, without counting the more binary, fast and violent aspect) 3: the use of polyrhythms in the manner of The Rite of Spring, from Igor Stravinsky, overlapping asymmetric measures and binary measures intermittently, system recently taken over by Steve Coleman, but this last is also often refers to Afro-Cuban rhythms. The mixing of contemporary very written music, with very improvised jazz-rock, is not without reminding of a certain Frank Zappa, who followed a fairly parallel path, in fact, which I think that it was in the zeitgeist of the 1970s 1980. Christian Vander plays today also in a more traditional jazz trio, thereby reviving his original influences. Magma greeted Didier Lockwood starting in 1974 or Simon Goubert and François Laizeaux (drummers) and many other figures of the world of the French contemporary jazz. Magma is probably the French band which received the Best International recognition of History, and Christian one of the few French drummers respected even by the Americans for his virtuosity and technique as well as his invention and originality, even if he did not receive the popular success of Genesis (Phil Collins) and other progressive rock bands, often more "polite" and conventional. It is clear that Magma opened doors to many styles by exploding literally all the stylistic conventions and boundaries, with a versatile mastery, and a brio that makes it still unique and unclassifiable (very rare quality in the world of music, especially with success). Christian presents an instructional video resolutely more oriented toward philosophy than technique and "ready-made" recipes ("Un homme, une batterie" ("A man, a drumset") 1988).
Marc De Douvan, publication in French: December 10, 2007 (for the translation in English: July 12, 2015)
Official website
See
Link to Drummerworld or other
See