Cerrone Marc
Musicians or bands:
Cerrone, Kongas, Modjo, Bob Sinclar, Lionel Richie, Paul Mac Cartney, Daft Punk
Biography and commentary: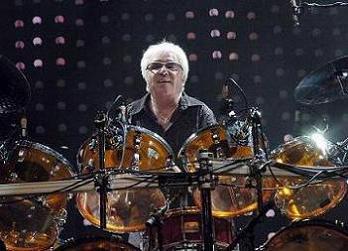 Self-taught, Marc Cerrone (born in 1952) is nevertheless the only French modern drumset drummer to invent a style on drumset, the "disco", that "techno" and "dance" have copied and sampled blithely (first album under his name "Love in C Minor "1976, 8 million records sold, one Grammy Award). His brilliant idea is to crossbreed two opposite styles: the "Dixieland" of the origins of jazz and rock, giving a bass drum kick (beat) on each time (of the measure) and therefore also in unison with the snare drum, but in a binary note "flow" (eighth notes or sixteenth notes on hi-hat, with systematic openings in syncopation). The sound result is reminiscent of the samba with the two beats marking of the surdos, one low and one high, but in reverse. The presence of "afro" percussions is also another characteristic feature of his music, which is greatly focused on polyrhythm (in the vein of Rhythm and blues and Carlos Santana), since his first band ("Kongas", 1972). His music is associated with the festive spirit and liberation of morals of the 1970s. Cerrone is not a great technician of the instrument, but he proved he could still be inventive and was able to courageously oppose the conformism of the mass media which rejected him in France at the beginning, because precisely of the strong presence of the bass drum (which is why his records at first was played only in discotheque, hence the term "disco") by self-producing and exporting himself to the United States. Today, Marc can be proud of an international recognition and success (30 million albums sold worldwide, 5 Grammy Awards, 5 Billboard Awards, 1 Golden Globe, 2 Honor medals of the SACEM, Commander of Arts and Letters, ...).
Marc De Douvan, publication in French: November 22, 2006 (for the translation in English: July 12, 2015)
Official website
See
Link to Drummerworld or other
See