Haynes Roy
Musicians or bands:
Sonny Rollins, Stan Getz, Thelonious Monk, John Coltrane, Roland Kirk, Johnny Griffin, Phineas Newborn, Paul Chambers, Jacky Mc Lean, Chick Corea, Gary Burton, Pat Metheny, Oliver Nelson, Sarah Vaughan, Bud Powell, Art Tylor, Jack DeJohnette, Ray Charles, Ronnie Matthews, Larry Ridley, Sonny Payne, Eric Dolphy, Freddie Hubbard, George Barrow, George Duvivier, Miroslav Vitous, David Sanchez, Daniel Moreno, Charlie Parker, Tommy Potter, Rudy Van Gelder, Al Haig, Richard Davis, Curly Russell, J.J. Johnson, Art Blakey, Duke Jordan, Michel Petrucciani, Stépahne Grappelli, Danilo Perez, John Patitucci, Dave Holland, Roy Hargrove, Kenny Garrett
Biography and commentary: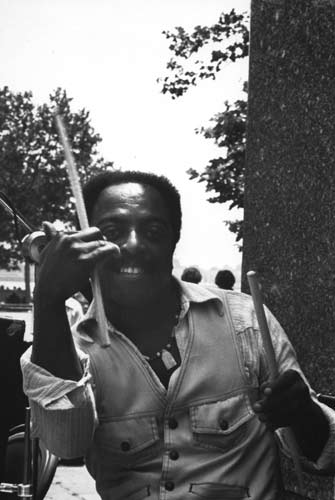 Self-taught, Roy Haynes (born in 1925 in Boston) began his career in 1942 (at 16 years old) with the jazz guitarist Charlie Christian and is one of the inventors of modern jazz drumming (bebop), with Kenny Clarke. His independence with the right foot as well as the left hand, allowed him to be one of the first drummers to perform right foot / left hand (or even left foot) rudiments while keeping a swing chabada with the right hand / left foot which is still today a technical summit hard to surpass in jazz drumming. He is also one of the first jazz-samba drumset player (by playing in the 1960s with Stan Getz, the inventor of the style). He is the inventor of the "flat ride" cymbal (without dome, with a more muffled, dry sound) probably to adapt to small bands and the fast playing of the bebop style (in the 1970's). We can say that his very free playing even for the chabada and the hi-hat with the left foot, inspired the generation that followed, known for improvisation of the four limbs simultaneously: Elvin Jones, Tony Williams and Jack DeJohnette in the 1960s. His success has not been denied subsequently, which is evidenced by the prestigious list of people with whom he played in one of the longest drummer careers in history (83 years to date, because he's still playing) .
Marc De Douvan, publication in French: October 10, 2008 (for the translation in English: July 12, 2015)
Official website
See
Link to Drummerworld or other
See