Santamaria Mongo
Musicians or bands:
Yambu, Mongo, George Shearing, Dizzy Gillespie, Cal Tjader, La Lupe, Willie Bobo, Paul Horn, "Paquito" Echevarria, Pete Escovedo, Armando (Chick) Corea, Marty Sheller, Hubert Laws, Perez Prado, Tito Puente, Toots Thielemans, Herbie Hancock, Michel Camilo
Biography and commentary: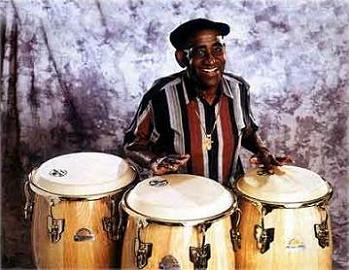 Mongo Santamaria was a conga player of Cuban origin (1922 Havana-2003), composer and creative leader of "salsa" percussion with Tito Puente and Ray Barretto at the same time (1950's). He has the honor to succeed to Chano Pozo in Dizzy Gillespie's jazz orchestra and to play alongside Tito Puente's in Perez Prado orchestra. His taste for mixings makes him lean towards the fusion of Caribbean musics (Calypso, beguine, samba, merengue, etc.) with his own groups as a leader: Mongo and Yambu. He was one of the major influences of Poncho Sanchez and Carlos Santana, as it is true that he was one of the first to expand as much the scope of Cuban music to every possible musical horizons, making him one of the greatest inventors of jazz fusion and Caribbean jazz (besides "funky" modern drumming is also often present in his works as well as the Cuban roots of Santeria worship or the Brazilian samba).
Marc De Douvan, publication in French: October 10, 2008 (for the translation in English: July 12, 2015)
Link to Drummerworld or other
See