Smith Marvin "Smitty"
Musicians or bands:
The Tonight Show, Dave Holland, Steve Coleman, Kip Hanrahan, Sonny Rollins, Ron Carter, Benny Golson, Milt Jackson, Branford Marsalis, Monty Alexander, Michel Camilo, Diane Reeves, John Scofield, Don Pullen, Steve Turre, Kenny Barron, Sting, Buddy Rich Big Band
Biography and commentary: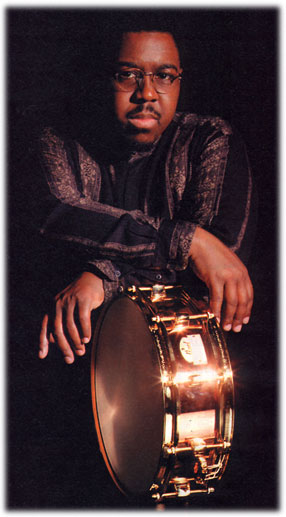 Born in 1961, from a father himself drummer, Marvin Smith ("Smitty") is one of the greatest virtuosos of the younger generation of jazz musicians and jazz-rockers (he played with many of the best contemporary jazz musicians). At ease in all styles and playing techniques (even the double pedal, which is extremely rare among the jazz drummers), Marvin is a master of improvised solo with great ambidexterity (he chains ascent and descent of toms rarely equaled in speed) and complexity (asymmetrical measures, which made the mark of the rhythm section of Steve Coleman (he plays on his first album, "On the edge of tomorrow", 1986 and will then be replaced by Gene Lake), one of the most innovative saxophonists and composers of the recent years). Marvin had the great honor to participate at a young age (30 years) to a tribute concert to Buddy Rich (reserved for the most innovative and virtuoso drummers in the world), including improvised duet with his equally famous namesake Steve Smith (a great moment!) and regularly gives master classes around the world.
Marc De Douvan, publication in French: January 3, 2006 (for the translation in English: July 12, 2015)
Link to Drummerworld or other
See