Cinelu Mino
Musicians or bands:
Miles Davis, Michel Portal, Tori Amos, Gato Barbieri, Kenny Baron, Tracy Chapman, Gil Evans, Dizzy Gillespie, Herbie Hancock, Antonio Carlos Jobim, Salif Keita, Bernard Lavilliers, Branford Marsalis, Pat Metheny, Marcus Miller, Claude Nougaro, Lou Reed, David Sanborn, Wayne Shorter, Sting, Cassandra Wilson, Weather Report, Jacky Terrasson, Stevie Wonder, Zucchero
Biography and commentary: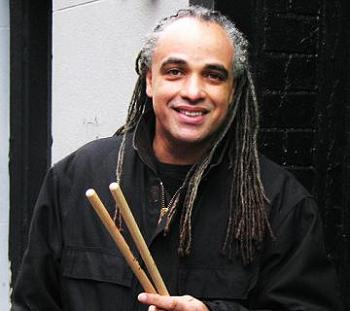 Mino Cinelu is a Parisian percussionist who became fully reknown with Miles Davis in the 1980s (albums of the "jazz rock" period as "We Want Miles", 1982 Grammy Award), in a world fusion style, also very eclectic (percussive instruments from all sources including sampler and electronic pads), free and personal, yet unusual for percussion at that time (see also Alex Acuña, Luis Conte and Airto Moreira). Since then, he played with an impressive number of international celebrities, in a variety of styles. He is also the only French percussionist to have had the honor to play with the Buddy Rich Big Band ("Burning for Buddy" 1994, making of dvd) in duet with Manu Katché, a consecration for the most recognized drummers of the time in the USA. Mino also currently plays drums with pedals in addition to its usual percussions coming from the entire world.
Marc De Douvan, publication in French: January 3, 2006 (for the translation in English: July 12, 2015)
Official website
See