Ameen Robby
Musicians or bands:
Horacio Hernandez, Kip Hanrahan, Mongo Santamaria, Ruben Blades, Eddie Palmieri, Paquito D'Rivera, Milton Cardona, Dizzy Gillespie, Dave Valentin, Steve Swallow, David Byrne, Paul Simon
Biography and commentary: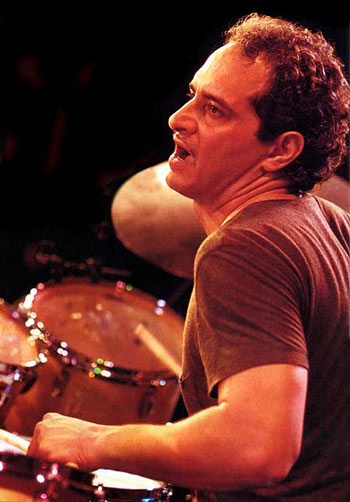 American from Lebanese origin, a Yale graduate in literature, Robert Ameen has also studied classical percussion and with the master of "world" free jazz, Ed Blackwell . He is a pioneer of "funky" adaptation of the Afro Cuban percussions for modern drumset (with Steve Gadd and his very personal version of "Cuban Mozambique" called since the "New York Mozambique", and José Luis "Changuito" Quintana and his "Songo") with a perfect knowledge of traditional basic rhythms (such as cascara or clave with the right hand). One of the rare drummers who improvise in independence while playing the clave with the left foot. The alter ego of Horacio Hernandez (with whom he played in duo) and Akira Jimbo , with an impressive knowledge of Cuban music. There are educational scores from Robby Ameen which have emerged as a reference ("Afro-cuban grooves for bass and drums-Funkifying the clave", with the bassist Lincoln Goines, 1990).
Marc De Douvan, publication in French: January 3, 2006 (for the translation in English: July 12, 2015)
Official website
See
Link to Drummerworld or other
See