Bellson Louie
Musicians or bands:
Duke Ellington, Count Basie, Bennie Goodman, Tomy Dorsey, Woody Herman, Dizzy Gillespie, Stan Getz, Lionel Hampton, James Brown, Tony Bennett, Billy Cobham, Sarah Vaughan, Ella Fitzgerald, Oscar Peterson, Art Tatum, Gerry Mullingan
Biography and commentary: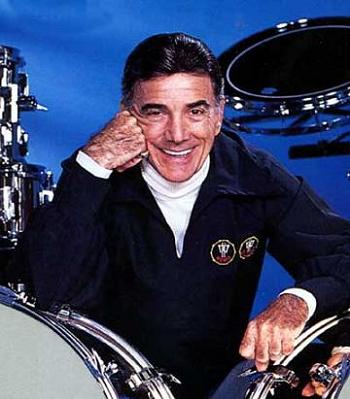 Louie Bellson (1924-2009) was the first drummer in history to play with double bass drum (one on each foot, when he was only 15 years old (in 1939) and on his own initiative), which he founded the basics today taken up by metal drummers (4 limbs rolls, "blasts beats", double bass drum single stroke roll in independence, etc.). Great pioneer of virtuoso drumset to an advanced age, he often played in duo or trio with other virtuoso drummers ("drum battle") as his illustrious mentors, Gene Krupa and Buddy Rich , but also Billy Cobham , Shelly Manne and Simon Phillips . He also had the honor to play alongside Gregg Bissonette and Dennis Chambers (in improvised trio) at the first tribute concert to Buddy Rich in 1989. Great specialist of "classic" big band (he was for long the drummer of Duke Ellington who simply called him "the world's greatest drummer"), he also managed to integrate the different evolutions of the modern drumset as bebop (1940s), Latin jazz (1950s (Cuban) 60 (Brazilian)) or even the funk (1970, he recommends and studied the famous Rick Latham 's method , "Advanced Funk Studies"). He wrote many teaching methods, and made instructional videos. A model to follow in many respects. Louie passed away recently (February 2009) at the age of 84. He is one of the last creator "giants" of modern drumset who leaves us.
Marc De Douvan, publication in French: January 3, 2006 (for the translation in English: July 12, 2015)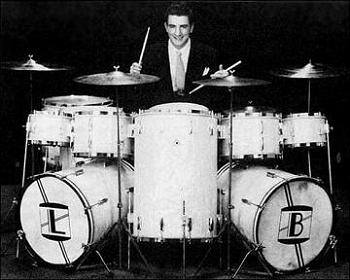 Link to Drummerworld or other
See