Mason Harvey
Musicians or bands:
Fourplay, Lee Ritenour, Herbie Hancock, Dave Grusin, London Symphony Orchestra, Errol Garner, George Shearing, Gerry Mulligan, Freddie Hubbard, Grover Washington, Victor Feldman, George Benson, Gerald Albright, Patti Austin, Perry Botkin Jr., Brecker Brothers, James Brown, Donald Byrd, Roberto Carlos, Casiopeia, Ray Charles, Stanley Clarke, Natalie Cole, Chick Corea, Miles Davis, Deodato, David Diggs, Dr. John, Victor Feldman, Maynard Ferguson, Aretha Franklin, Eric Gale, Lee Garrett, John Hammond, Gene Harris, Eddie Henderson, Joe Henderson, Warren Hill, Shirley Horn, Freddie Hubbard, Quincy Jones, Bob James, John Klemmer, Patti Labelle, Kenny Loggins, Jackie Lomax, Manhattan Transfer, Bette Middler, Gerry Mulligan, Joe Pass, Dianne Reeves, Santana, Tom Scott, George Shearing, Sadao Watanabe
Biography and commentary: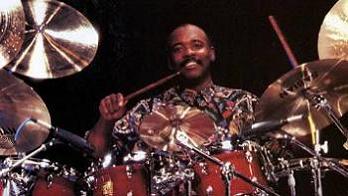 Born in 1947, known as the drummer of Herbie Hancock (the jazzman with 12 Grammy Awards) on the "flagship" album of jazz fusion "Headhunters" (1973), Harvey Mason is part of the jazz funk musicians the most recorded and respected. His virtuoso playing has inspired Rick Latham in his famous method "Advanced Funk Studies". Like his contemporaries Jack DeJohnette, Billy Cobham, Gerry Brown, David Garibaldi, Lenny White and Steve Gadd, Harvey is a pioneer of jazz funk drumming (with ghost notes, shifted beats and afterbeats, powerful and precise rim shots, open hi-hat, rolls on hi-hat with bass drum independence, rudiments right foot/left hand with right hand and left foot cymbal independence). We did not go much further since in R'N'B. He is also a jazz samba specialist notably thanks to a super fast "heel-toe" playing.
Marc De Douvan, publication in French: October 10, 2008 (for the translation in English: July 12, 2015)
Official website
See
Link to Drummerworld or other
See