Bruford Bill
Musicians or bands:
King Crimson, YES, Eddie Gomez, Al Di Meola, Genesis, Rick Wakeman
Biography and commentary: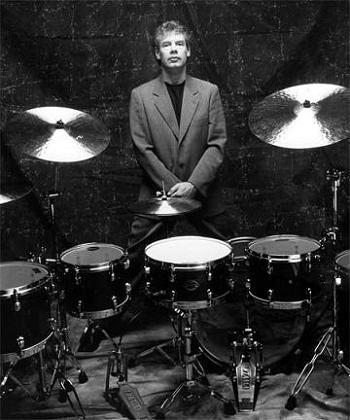 Bill Bruford is a British soloist drummer (born in 1949) with an impressive classical technique of instruments passages (surely inspired by timpani and keyboards and also Max Roach jazz drumming), a pioneer in the field. He is one of the first progressive rock drummers, very versatile and constructed in his playing (using large written parts). Bill will be reknown himself with Yes in 1969 and will be capable to succeed Michael Giles in King Crimson in 1973 and replace Phil Collins drummer with Genesis, in live concerts (an honor when you know Phil's talent on drumset). His production as a leader is remarkable and makes him one of the most virtuosic and avant-gardist drummer of his generation. His recent quartet with Luis Conte , Dudu N'Diaye Rose and Chad Wakerman is also remarkable (World Drummers Ensemble, "A COAT OF MANY COLORS" (2006) CD / DVD).
Marc De Douvan, publication in French: January 3, 2006 (for the translation in English: July 12, 2015)
Official website
See
Link to Drummerworld or other
See