Alexander Tim "Herb"
Musicians or bands:
Primus, Fata Morgana, Laundry, Deficit, Tirebelly, Major Lingo, Oxygene, Michael Francis, David Sanger, Chris O'Connell, Floyd Domino, John Ely, Cyndi Cashdollar, Larry Franklin, Larry LaLonde, Les Claypool, Michael Manring, Ricky Turpin, Spencer Starnes, Attention Deficit, Joe Solo, Ray Luv
Biography and commentary: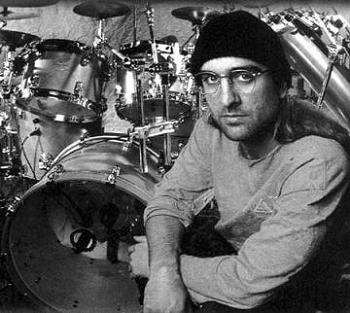 Tim Alexander (born in 1965 in North Carolina) is probably the first metal drummer to integrate the rhythmic subtleties of funk (polyrhythms, breaks beats, asymmetrical measures, etc.), while integrating complex ornamentations into the bass drum double pedal playing. Those who admire Thomas Lang should go to see what Tim did before him (except for the double hi-hat playing, which is for me a real specificity of Thomas playing, on the contrary). The band Primus (1988) is a true legend of progressive metal and it would be impossible to assess the immense influence that Primus gave to all metal bands since. Tim freed literally the simplistic, "square" and mechanical marking of the drumming of the first metal bands using the double bass drum, to incorporate the sharpest rhythmic subtleties as they can be found for a long time in jazz fusion or Latin jazz. An "experimental" band (I mean "very creative") that is reminiscent of the "Hendrixian" legend (and what Mitch Mitchell brought to jazz, funk and rock). Steve Smith is one of their admirers. Tim has made an educational DVD and gives master classes and solos at festivals.
Marc De Douvan, publication in French: March 3, 2009 (for the translation in English: July 12, 2015)
Official website
See
Link to Drummerworld or other
See