Paolini Jean-Claude
Musicians or bands:
I Muvrini, Patrick de Bana, Opéra de Paris, Orchestre Philharmonique de Nice, Ballet Théâtre Espagnol de Madrid, Damien Michel
Biography and commentary: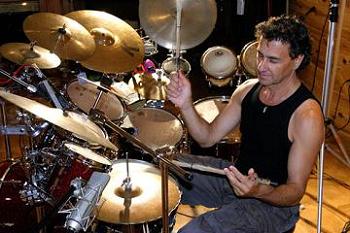 Born in Africa and Corsican of residence, Jean-Claude studied percussion at the Conservatory of Nice and the drumset at the "Ecole nationale supérieure Dante Agostini de Paris" ("National Dante Agostini college in Paris"). He now teaches at the Conservatory of Bastia and played in the most varied contexts (including improvised duet with the leading dancer Patrick de Bana), often as a soloist behind his drum set (perhaps one of the only ones to have had this honor on classic scenes and with symphony orchestras, which tells a lot about his qualities of melodist and composer on drumset). His playing in solo, very virtuosic and improvised, surely raises the instrument to heights (as improvisation with the clave with the foot in independence, complex subdivisions and rudiments, melody and "Linear drumming", dynamics and gesture with a mastery that is reminiscent of a certain Dave Weckl for melodic playing with 3 limbs or Horacio "El Negro" Hernandez for the Afro-Latin playing). The practice of the karate martial art is one of his passions and inspirations, which are found in his gestures and postural control on the drumset. For me, Jean-Claude is simply the French modern drummer the most accomplished, educated and inspired at the time, inspiration that comes from his childhood in Africa and walks on the "Isle of beauty", according to his own words, a natural bridge between Europe and Africa, which are found in the mixed and sublimated "identities" of his music.
Marc De Douvan, publication in French: October 10, 2008 (for the translation in English: July 12, 2015)
Official website
See