Parker Leon
Musicians or bands:
Joshua Redman, Kenny Barron, Jacky Terrasson, Giovanni Mirabassi, Charlie Hunter, Lisa Parker, Elizabeth Kontomanou
Biography and commentary: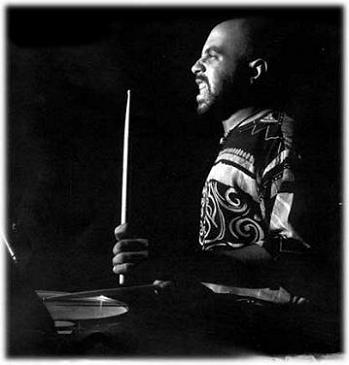 Leon Parker is a young American drummer, composer, arranger and percussionist (born in 1965 in the State of New York), who renews the jazz style by a very eclectic and world touch. He begins the drumset from 3 years old and after classical music studies, took courses with Barry Harris. Adept of musical "minimalism", he was able to play complete concerts on a single cymbal, also seeking to exploit all its sound potential. In his albums as a leader, he likes to use the "rerecording" and various percussions. Leon is not a great "technician" or improviser, but offers an original musical result, cultured and well thought out. An "intellectual" of the instrument if I may say so, with a very conceptual approach (written) while being still "cool" and dancing ("swing" and "groovy"), which is also an opposite view to clichés about this type of approach to jazz music, sometimes labeled a little easily "free", which tends more often to the rhythmic and harmonic chaos to go away from the jazz and afro-latines music traditions, unlike Leon. He often ultimately operates a "return to the sources" of jazz, without ever falling into traditionalism or academicism (not to be confused with the "revival" style, already explored by Wynton Marsalis brilliantly, full of references to jazz of all ages yet creative), offering sound and stylistic clashes of the most enjoyable, provided to keep an open mind. A "harbinger" of what could be the world culture of the XXI century, no offense to all the "eulogists" of "good taste".
Marc De Douvan, publication in French: January 3, 2006 (for the translation in English: July 12, 2015)
Link to Drummerworld or other
See