Aronoff Kenny
Musicians or bands:
Ricky Martin, John Fogerty, Lynyrd Skynyrd, Melissa Etheridge, Garth Brooks, Smashing Pumpkins, Dave Navarro, Tony Iommi, Celine Dion, Amanda Marshall, Michael Sweet, Eddy Money, The Freddy Jones Band, Mary Chapin Carpenter, Philip Claypool, Dave Uhrich, Richie Sambora, Rod Stewart, Rolling Stones, Kim Fox, Joe Jackson, Joe Cocker, Meatloaf, John Cougar Mellencamp, Bob Seger, Poor Boys, Brian Setzer, Belinda Carlisle, Paul Pesco, Bill Carter, The Graces, Seth Marsh, Indigo Girls, Elton John, Jon Bon Jovi, Bob Dylan, Jimmy Ryser, Richie Sambora, Shannon Curfman, Michael Sweet
Biography and commentary: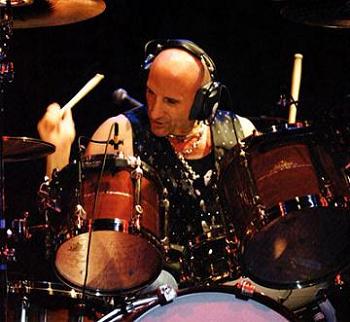 Born in 1953, Kenny Aronoff already played drums in public at ten. He plays as autodidact until age 16 and then entered the University of Massachusetts to study classical percussion (such as marimba). After a short orchestral timpani career he decided to get back to the modern drumset by taking courses with Gary Chester among others. His practice of the instrument make him an accomplished jazzmann (see his performance with the Buddy Rich Big Band) and above all one of the most requested rockers of his generation (from pop to metal). His playing is not unlike that of a pioneer of modern rock drumming: Carmine Appice . Kenny has written numerous teaching methods with original writing and educational concepts (using combinatorial mathematics and overlays fingerings, to develop independence, that surely inspired the methods of Thomas Lang and Marco Minnemann , and at least mine) and performed educational DVD.
Marc De Douvan, publication in French: March 3, 2009 (for the translation in English: July 12, 2015)
Official website
See
Link to Drummerworld or other
See