Ewandé Louis César
Musicians or bands:
Percussion Ensemble, Ballet Kodia, Elsa Wolliaston, Evan Chandlee, Farafina, Fodé Youla, Ryo Noda, Kasumi Watanabe, Ray Lema, Joachim Khün, le Ballet Nimba, Stephan Rigert, Norma Claire, Dee Dee Bridgewater, Archie Shepp, André Ceccarelli et Sylvie Bourgeois.
Biography and commentary: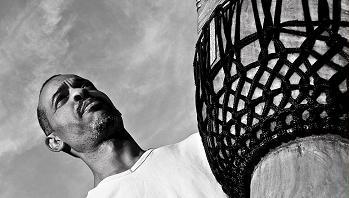 From Cameroonian origin, born in Paris, Louis-Cesar Ewandé has received his knowledge from different Mandingo masters (Tony Batchi, Jean Lulendo, Fotigui Touré, M'Bemba Camara). Master of Mandingo hand percussion with a personal creative and virtuoso approach, like Inza Diabaté (djembe solo with integration of Cuban techniques, sweeping, fingers rolls in the Arab manner, etc.), he studied music theory, and holds a conservatory education degree (DE) and associates from the beginning his traditional Mandingo playing with all cultural contexts, which is almost unique. With his band, "Percussion ensemble", he mixes jazz with Mandingo and Afro-Cuban percussions. The use of asymmetrical measures is also a feature of the modernization of Mandinka percussion, which is rare and even pioneer. Her younger sister Alix Ewandé began a promising career of funky singer and drummer (singing while playing drums in independence, which is rare especially with this quality).
Marc De Douvan, publication in French: October 10, 2008 (for the translation in English: July 12, 2015)
Official website
See
Link to Drummerworld or other
See