Séry Paco
Musicians or bands:
Joe Zawinul, Ivan Zawinul, Michel Alibo, Ray Lema, Salif Keita, Richard Bona, Louis Winsberg, Alain Debiossat, Sixun, Cheik-Tidiane Seck, Gary Poulson, Djene Doumbouya, Souleymanne Doumbia, Assitan Dembele, Manu Dibango, Papa Wemba, Kassav, Tour Tour, Eddy Louiss, Nina Simone, Jaco Pastorius, Sally Nyolo
Biography and commentary: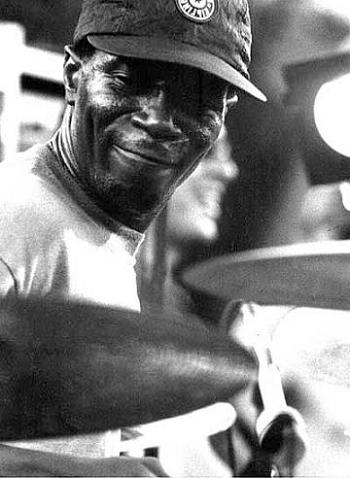 From ivorian origin, Paco Séry (born in 1956) began the drumset at 9 years old by sculpting his own drumset in wood and quickly played in Abidjan clubs. He is noticed by the jazz organist Eddy Louiss in a trip, who hires him for 7 years. Then came the memorable collaboration with the great singer and jazz pianist Nina Simone ("Fodder on my wings," 1982). Soon after, he formed with Jean-Pierre Como, Louis Winsberg, Alain Debiossat, Michel Alibo and Idrissa Diop, one of the most famous French fusion group, Sixun (first album, "Nuit Blanche", 1985). After accompanying various musicians of "Afro-electric" music, he was hired by Joe Zawinul (co founder of one of the first jazz fusion band, Weather Report, with Tony Williams, Peter Erskine, Alex Acuna and Omar Hakim on drumset), to become one of the pillars of his Zawinul Syndicate, which brings together musicians from all over the world in a "World Jazz" unlimited. He has recently made his own record as a leader. The playing of is Paco very funky with of course African-sounding, very energetic (lots of fast and powerful single stroke rolls with the arms as with a digital percussion), but we do not forget that James Brown, himself a drummer, was also influenced by the Afro-beat of the Nigerian Fela Anilapo Kuti and his drummer Tony Allen as well as the afrocuban music (the "funky" drumming is necessarily very African and vice versa).
Marc De Douvan, publication in French: October 10, 2008 (for the translation in English: July 12, 2015)
Official website
See
Link to Drummerworld or other
See