Mitchell John "Mitch"
Musicians or bands:
Jimi Hendrix, Larry Corriell
Biography and commentary: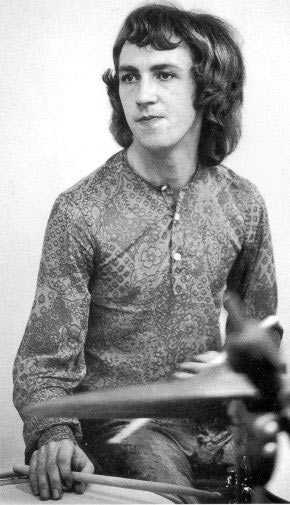 "Mitch" Mitchell (from English origin, born in 1947) is one of the greatest pioneers of jazz-rock drumming, which mixes the subtlety of dynamics, continuous improvisation and rolls of jazz with rock, notably with accents on double strokes and triplets (technique that will be taken over by the greatest virtuosos like Bernard Purdie, Jeff Porcaro or Dennis Chambers). He is one of the greatest inventors of the playing with "ghost notes", these pianissimo notes added in complementarity with the bass drum to embellish the afterbeat, now copied by everyone (even in variety!). An example of technique that seems invented by him, probably inspired by the complementary playing of the famous drumset accompaniment duo of James Brown, Clyde Stubblefield and John "Jab'O" Starks: the papardiddle with right foot and left hand, in independence with right hand and left foot, which will be a major influence of the "new funk" on drumset, and we'll find in the playing of Harvey Mason, John Bonham, David Garibaldi and Steve Gadd shortly after (nothing less). The alter ego of Hendrix but in drumming (first album of Jimi Hendrix Experience, "Are you experienced", 1967). He himself admits a predominant influence of the avant-garde jazz drummer Elvin Jones, whose he is surely the first to adapt the revolutionary techniques to rock, before John Bonham or funk drummers. Too bad that his career, after the untimely death of Jimi Hendrix, has little allowed to see him playing with artists at his height (his playing is actually quite close to that of Jack DeJohnette, with a great sense of binary improvisation, rhythmic shifting and voluble). The English variety of the time did not like this kind of expansive and "affirmed" drummers and it is true that it is better to have an audience and acolytes who follow, to not seem out of place when you play "too" good. The sudden death of Jimi Hendrix, who had become a close friend, had also disgusted him to go back on stage. Jimi Hendrix, American, did only really revealed himself thanks to him and has never played better than with him, in my opinion, and the permanent improvised dialogue they engaged together in concert, is clear to me and exceptional in virtuosity. Some historians too focused in my opinion on the music labeled "jazz", overestimate for me, the contribution of novelty of Tony Williams in jazz rock, which he has addressed only in 1968 with Miles Davis ("Miles in the Sky ") and with his own band "Lifetime" (" Emergency", 1969), without going much further than Mitch in the genre. Before that, the playing of Tony was fundamentally bebop (no back beat or regular beat, typical of rock, funk and jazz rock). Moreover, Miles had also expressed the wish to play with Jimi Hendrix and he died too early to do it (1970). This was the true starting point of his electric period and Jimi was probably his most important influence for this period. Miles also said in an interview: "Jimi Hendrix can take two white guys and make them play their asses off", which says a lot about the talent of Mitch, when you know how Miles was stingy with compliments for his contemporaries. Mitch has just left us (November 2008), and his legend will finally attached to that of Jimi Hendrix, which is not nothing.
Marc De Douvan, publication in French: January 3, 2006 (for the translation in English: July 12, 2015)
Official website
See
Link to Drummerworld or other
See