Garibaldi David
Musicians or bands:
Tower of Power, The Buddy Rich Orchestra, Talking Drums, Ray Obiedo, Patti Austin, Natalie Cole, Rad, Tony Williams
Biography and commentary: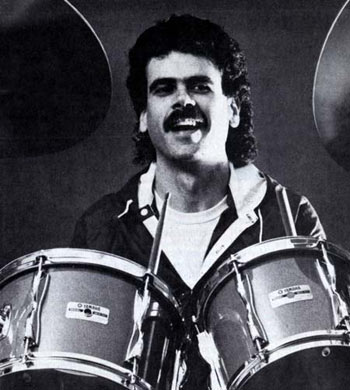 Born in 1946, David Garibaldi revolutionized the approach of R'n'B and funk on drumset in the 1970s in the group "Tower of Power", introducing polyrhythmic shifted beats and shuffles with the right hand and ghost notes with paradiddles, offset paradiddles and mixed sticks (coordination of hands and feet non symmetrical, unlike the European tradition of military drum), which correspond to a kind of technical summit in funky drumming and of which Jack De Johnette is one of the first specialists in jazz fusion (to listen already on "Bitches Brew", Miles Davis, 1969), and certainly inspirer of David Garibaldi and Steve Gadd at the same time. Later, Dave Weckl will pay tribute to him in his first album as a leader ("Masterplan", 1991, which also presents an anthology duo Gadd / Weckl), with his first piece "Tower of inspiration", today also a lot covered by experienced students around the world. The style of David Garibaldi is now one of the most copied in R'n'B, even if it is sometimes with drum machine (it is true that it requires an excellent drummer level ). David offers instructional scores and videos.
Marc De Douvan, publication in French: November 22, 2006 (for the translation in English: July 12, 2015)
Official website
See
Link to Drummerworld or other
See