Gastaldin Claude
Musicians or bands:
Lionel Melot, Stéphane Sichi, Yves Gerbelot, Laurent Roubach, Christophe Villalba, Luc Aussibal, Lav Kumar Sharma
Biography and commentary: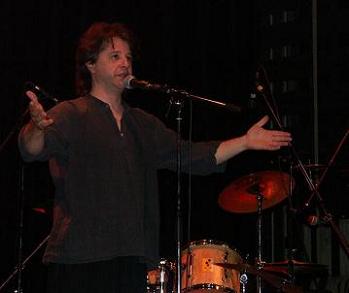 French drummer who studied in the USA with the best teachers (Berklee), writer of a unique approach in the world with Indian percussion transpositions (Tablas) for the drumset ("Actual Touch", 1999), like Trilok Gurtu playing for example, who remains (and for good reason) often obscure because of the complexity. Breathe the extreme melodic sophistication of Indian music on drumset, a vast program that had never been transmitted theoretically and Claude manage it with brillantly, by having first started (after studying all drumset styles, which also earned him the edition of multiple methods in French) with a theoretical and practical study of tablas by an Indian tabla master (oral transmission through the song, is traditional). One of the most interesting and vanguard studies of the latest years for modern drumset (with pedals), and we owe it to a French, which is still too little known to my taste. Hence his presence on this list instead many French drummers certainly more famous, but especially in France and because they belong to the "star system" and not for the contribution of novelty they could bring to the instrument (fruit of a hard work in general), which primarily interests me and is in my opinion the main quality of any artist or at least the one that makes him enter in history and will interest the future generations and rightly so.
Marc De Douvan, publication in French: November 22, 2006 (for the translation in English: July 12, 2015)
Official website
See
Link to Drummerworld or other
See