Watts Jeff
Musicians or bands:
Branford et Wynton Marsalis, Mac Coy Tyner, Gary Thomas, Terence Blanchard, Kenny Garrett, Michael Brecker, Sonny Rollins, Sadao Watanabe, Harry Connick Jr, Danilo Perez, Ravi Coltrane
Biography and commentary: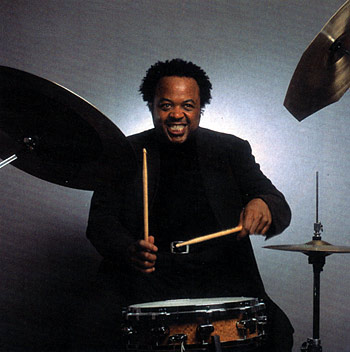 Jeff Watts (born in Pittsburgh, Pennsylvania in 1960) is one of the most brilliant and creative jazz drummers of the moment, while remaining in a tradition that goes back to the sources of jazz, such as New Orleans (a prowess on the musical aspect). He began studying the drum at 10 years old, and the drumset at 14 and will pass through the famous Berklee College of Music in Boston. At the same time he also plays in funk bands. His ability of improvised playing with four limbs independence reached a freedom rarely equaled, except by drummers like Jack drummers DeJohnette, Dave Weckl, Tony Williams and Elvin Jones, to name only the most famous. He is also capable to play "Cajun" rhythmics (another specialty of Jack DeJohnette) or asymmetrical swung measures on the footsteps of Joe Morello. He has already received 6 Grammy Awards, with Branford and Wynton Marsalis (who hired him in 1982 and started with Art Blakey, Herbie Hancock and Tony Williams, in the early 1980s) and also as a leader ("Watts", 2009 ) with Terence Blanchard, new leaders of "revival jazz" (not without some creativity, careful with easy "label", Marsalis brothers also incorporate the Be Bop, hard bop, Free, cool, Latin and funk jazz in the same album, in my opinion, a rare synthesis indicating in addition to a great culture, a great virtuosity and not without some "fantasy" (imagination) and freshness). He played since with a quite incredible amount of contemporary American jazz musicians. Jeff has his own label and is occasionally leader with his own compositions.
Marc De Douvan, publication in French: November 22, 2006 (for the translation in English: July 12, 2015)
Official website
See
Link to Drummerworld or other
See