Diaz Miguel "Anga"
Musicians or bands:
Roy Hargrove "Crisol", Steve Coleman, Roy Hargrove, Afro Cuban All Stars, Magic Malik, Ruben Gonzalez, Ibrahim Ferrer, Ry Cooder, Omara Portuondo, Orlando "Cachaíto" López, Cubanismo, Orishas, Omar Sosa
Biography and commentary: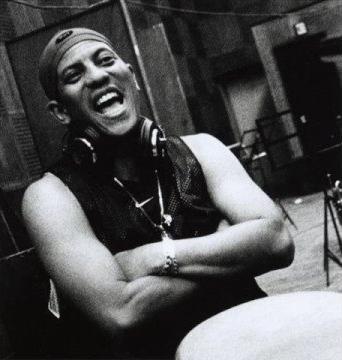 Of Cuban origin, "Anga" Diaz was a recognized rising figure of congas (both technical and creative), he usually played by 5 and who edited an original educational video. He received a Grammy Award with Roy Hargrove alongside the excellent Horacio "El Negro" Hernandez on drumset and the legend of timbales Jose Luis "Changuito" Quintana ("Habana" in 1997, so to say an album of recent Latin jazz fairly a must) . He played with the "stars" of different generations and styles, which also shows his sense of adaptation. His album as leader ("Echu Mingua", 2005) shows all his ope-mindedness. Miguel prematurely passed away in 2006 at age 45, from heart-attack. Miguel was able to play congas with one hand, with a cowbell with the other, keeking a continuous left foot clave and improvising (to see with Omar Sosa).
Marc De Douvan, publication in French: January 3, 2006 (for the translation in English: July 12, 2015)
Official website
See