Katché Manu
Musicians or bands:
Jan Garbarek, Peter Gabriel, Sting, Joe Satriani,Michel Jonasz, Francis Cabrel, Stephan Eicher, Jeff Beck, Dire Straits, Tears for fears, Al di Meola, Youssou N'Dour, Joni Mitchell, Geoffrey Orayema, I Muvrini, Kassav, Laurent Voulzy, Louis Chedid, Veronique Sanson, Jean-Jacques Goldman, Simple Minds, Gipsy Kings, Eddy Mitchell, Alain Souchon, Patrick Bruel, Paul Young, Philippe Lavil, Pino Daniele, Louis Bertignac
Biography and commentary: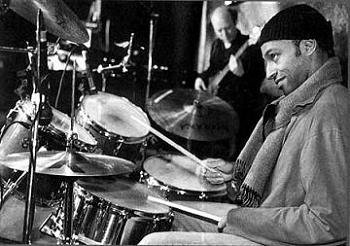 French drummer, pianist and composer, born in 1958 in the Paris suburbs, Manu Katché was revealed to an international audience with Peter Gabriel ("So", 1986) and Sting ("Nothing Like the Sun", 1987 and "Soul Cages" 1991, which won a Grammy Award). His playing is in my opinion really blossomed with the Norwegian jazz saxophonist Jan Garbarek (since 1989). He is the only French drumset drummer to have had the honor to accompany the Buddy Rich Big Band on « Burning for Buddy : A Tribute to the Music of Buddy Rich» (1994), a consecration. His playing is both very melodic, cultivated (the influence of the master Steve Gadd is obvious, notably the use of rudiments on cymbals and with ghost notes) and technical (his passage in conservatory's percussion class owes him surely his impeccable technique of single and double stroke rolls) with always very "funky" developments in his last jazz albums. His ability to build complex speeches melodically is impressive (by mixing the different timbres of the drumset), certainly thanks to his knowledge of the piano (a little like Jack of Johnette, for example, also pianist), with a great mastery of "nuances" ("shades", dynamics) which can sometimes remind Dave Weckl or Vinnie Colaiuta. His samba transpositions are also very interesting, like his playing in pop-rock context, where parsimony and ornamentation are required, and where the composition with other instruments prevails over that of the drumset alone (which is a very "jazz" and African approach, ultimately). His contrapuntal and syncopated way to play splash cymbals will be followed by many (notably Vinnie Colaiuta who will replace him with Sting). He received 3 victoires de la musique (the "French Grammy"), an award from Modern Drummer Magazine, is Knight of Arts and Letters and hosted a Franco-German TV show ("One Shot Note", Arte) where the rule was to perform the music (pop, rock , jazz, world ...) live while sometimes intervening in an improvised manner on the drumset.
Marc De Douvan, publication in French: January 3, 2006 (for the translation in English: July 12, 2015)
Official website
See
Link to Drummerworld or other
See