Lang Thomas
Musicians or bands:
solo, Geri Halliwell, Robbie Williams, Bonnie Tyler, Kylie Minogue, Gianna Nannini, Boyzone, Billy Liesegang, Asia, The Blockheads, Willi Langer, Falco, Save The Robots, The Vienna Art Orchestra, Luis Conte, John Wetton
Biography and commentary: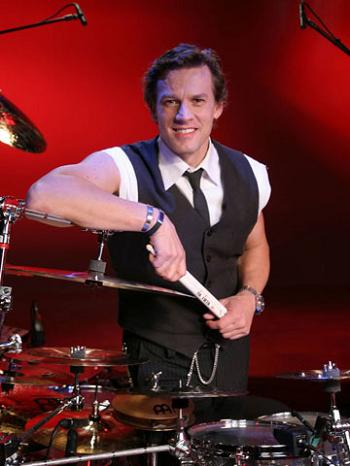 Thomas Lang (born in Austria in 1967) is known for his 2004 instructional double DVD ("Creative Control"), which presents many concepts already used by Max Roach (for ostinatos with both feet alternating, notably in 5 beats, "interdependence"), Terry Bozzio (double stroke rolls, "pataflas" ("swiss triplets") and "jumped single stroke rolls" of the feet in Independence), by Marco Minnemann (for the paradiddles and "mixed sticking" of the feet in "interdependence", see the written method "Extreme interdependence" of 2001), Buddy Rich for juggling and rolls stick against stick ("stick tricks") and Horacio Hernandez for Afro-Latin playing (independence with the clave on left foot). On the opposite, his extremely rigorous pedagogical approach is quite avant-gardist (using combinatorial mathematics, like myself, Marco Minnemann, Horacio Hernandez, Kenny Aronoff and Terry Bozzio, who inspired me, and more recently, Benny Greb). His playing with "double hi-hat", and right hand/left foot, in independence is also creative. His last instructional triple DVD ("Creative Coordination and Advanced Foot Technique", 2006), addresses some new concepts that bring the playing of feet alternating to an unsurpassable level as the "ruffs" and "jumped ruffed" thanks to the heel/toe with both feet, with accents and passages on different pedals (the double stroke roll ("daddy-mommy" (RRLL) with heel-toe of both feet was initially a specialty of Virgil Donati).
Marc De Douvan, publication in French: January 3, 2006 (for the translation in English: July 12, 2015)
Official website
See
Link to Drummerworld or other
See