Phillips Simon
Musicians or bands:
Toto, The Who, Mick Jagger, Jeff Beck, Al di Meola, Tears for fears, Joe Satriani, Juda Priest, Mike Oldfield, Derek Sherinian, Louie Bellson
Biography and commentary: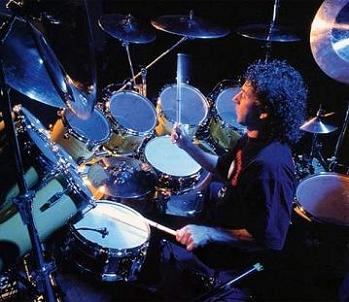 Born in 1957 in London, Simon Phillips is one of the most talented drummers in rock-pop-fusion of his generation (with Terry Bozzio without doubt). He will make a remarked passage in one of the first heavy metal band, Judas Priest (1977) and with the jazz-rock guitarist Jeff Beck, early in his career, making him one of the first to introduce the double bass drum in metal in the accompaniments ("Sinner") in the vein of Billy Cobham (John McLaughlin), Michael Giles ("King Crimson"), Ginger Baker (Cream) and of course Louie Bellson, the first drummer to use two bass drums with the feet, and with whom he had the chance to play improvised duet. He will brilliantly replace Jeff Porcaro (who died in 1992) in the famous progressive pop-rock band Toto, in 1995 ("Tambu"). He is one of the first to push the double bass drum playing at this stage of speed, endurance and complexity (in coordination with the hands, probably with Terry Bozzio, Mike Portnoy, Gregg Bissonette and Dennis Chambers at the same time) and to integrate it into popular songs by ornamentation and breaks ("fills"). In fusion style (as a leader) he demonstrates an impressive culture and a rare technical mastery (asymmetrical measures, Latin rhythms, extremely fast and powerful rudiments, dynamics, heel-toe, ambidexterity, polyrhythms, "linear drumming," etc.). People like Mike Portnoy and Marco Minnemann surely owe him a lot. He also created instructional videos. His set is impressive and very well used (he is also a master of melody and passages).
Marc De Douvan, publication in French: January 3, 2006 (for the translation in English: July 12, 2015)
Official website
See
Link to Drummerworld or other
See