Hidalgo Giovanni
Musicians or bands:
Dizzy Gilespie, Tito Puente, Eddie Palmieri, Dave Valentin, Carlos Santana, Paquito D'Rivera, Mac Coy Tyner, Steve Turre, Horacio Hernandez, Airto Moreira, Fourth World, Michel Camilo, Kip Hanrahan
Biography and commentary: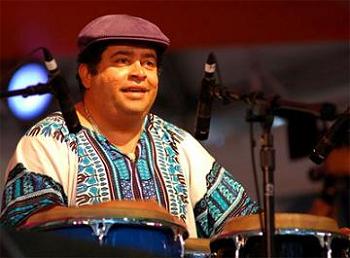 Born in Puerto Rico in 1963, Giovanni Hidalgo is one of the most virtuosic current congueros. This is one of the pioneers of the playing with five congas and absolute master of palm-fingers playing. Giovanni is the initiator of a revolutionary approach of the hand percussion, inspired by the rudiments of the traditional military drum. There are instructional videos from him, notably with improvised duets with virtuoso drummers (Steve Gadd and Horacio Hernandez, no less), a rare and surprising musical summit, which will interest as well drummers than percussionists who have a lot to learn mutually.
Marc De Douvan, publication in French: January 3, 2006 (for the translation in English: July 12, 2015)
Link to Drummerworld or other
See