Mattalia Alessia
Musicians or bands:
solo, The Spins, Funky Lips, Dario Baldan Bembo's band, ArX, Jeff Beck
Biography and commentary: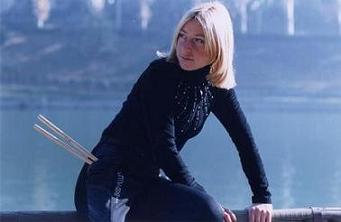 Alessia Mattalia is a young Italian female drummer with technical mastery comparable to the current most technical male drummers (Marco Minneman and Terry Bozzio for example). Her mastery of the feet is so good that we don't distinguish it from the playing with hands and that she can do the rudiments (jumped single stroke rolls, flams, etc.) alternately with the hands and the feet, with the same speed (the first drummer I've seen to do that at that level of control and it is a woman (learn that lesson gentlemen)!). This proves once again that dexterity has nothing to do with the strength (Alessia is small and thin, absolutely not "masculine"). She has just recorded alongside the genius of jazz rock guitar Jeff Beck ("Emotion and commotion", April 2010), and nothing less than Vinnie Colaiuta ("excuse for so little"). I hope to see thanks to her a grow of women's enthusiasm for the drumset, which still has a very macho image (listen also to Terri Lyne Carrington or Sheila "E" Escovedo). Alessia already gives master classes around the world.
Marc De Douvan, publication in French: January 3, 2006 (for the translation in English: July 12, 2015)
Official website
See
Link to Drummerworld or other
See